Christian Tourists

Rave: A Visit to Landover Baptist is Like Being Born-Again, Again!
The following paid testimony was translated by Landover Baptist Church elders from the original tongues and edited for both clarity and effusiveness.
Freehold Iowa - People who are blessed with the privilege of securing tickets to a Landover Baptist Church service always leave with the feeling of giddy exaltation that only comes from being mere millimeters away from the weeping face of the Christ. Once these ecstatic pilgrims close the heavy doors to their luxury sedans and make their way down the crucifixion-replica lined ramp to the Glory Toll Road leading them away from Landover Baptist and back onto US Route 30, a feeling of inconsolable melancholy invariably sets in as the occupants of the vehicle realize, one by one, that like that highway they just turned onto, their lives will all be downhill from thereon out.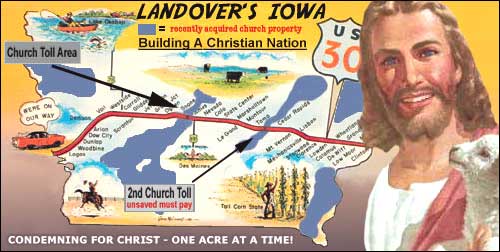 One visitor recently wrote Pastor a personal note. "I had the privilege to visit Landover Baptist this weekend, and what a glorious experience it was. I arrived in Freehold from Birmingham on Saturday, and took the campus tour (which was a steal for only $65). The electric Trinity Tram took us through all of the public sanctuaries, and then stopped at the Fellowship Hall where we had lunch catered by Jean Luc Cézanne for a nominal extra al a carte charge. I had the Dead Sea oysters on a half shell with cursed-fig reduction, and all I can say is it was a tent revival in my mouth! Sunday, I was able to enjoy the 3rd morning service with unexpectedly good seating. Having decided to attend sixteen months ago, I was only able to secure seats not together in the second and fourth loges. But the Lord Jesus was smiling on me as I patiently stood for three hours in the non-member Will Call line. As I finally approached one of the twenty-four box office windows, a block of box seats on the floor was released as a result of several families being righteously expelled from the church that very morning for expressing concerns about our President. I don't remember what the sermon was on, because I kept falling asleep on the plush Valentino upholstery of the pews. But I must say, my experience at Landover will always be remembered--and I will always treasure the Faberge replica Easter egg that I found in the gift shop for only $2,399. God Bless you for showing the world how to worship the only way God sees fit--in STYLE."
The "Show How Much You Love the Lord," Credit Card Swipe and Guest Pad, located in front of each seat in the non-member sections of the sanctuary, permits visitors to leave us their names and addresses so we have a record of their attendance and tithes. More often than not, the Pads are scribbled with accolades from visitors, raving about how beautifully dressed the members appear – even from 400 feet. Comments from people serious enough to back their words up with a love offering are simultaneously forwarded to both Pastor and Central Credit Card Billing. In one such message, a visitor wrote: "Words, much less these dollars, cannot express the wonderful time our family had while visiting the True Christian™ oasis that is Freehold, Iowa. Each family member has a favorite memory. Little Reginald was absolutely fascinated by the Giant Demon Bones and the Colored Savages tableau exhibits at the Creation Science Museum. Billy spent the afternoon at your state of the art Christian rifle range and bragged that not only did he blow fourteen bunny rabbits into a cloud of apocalyptic glory, he drove a bullet right through Hilary Clinton's eyes, wining a box of scripture-engraved ammo he will treasure for life. Sam was able to get a tee time reserved at 8 A.M. and made some wonderful new friends and Christian business connections on the Cotton Mather Memorial Golf Course. Marsha spent most of the day at your luxury Christian mall, and I was able to tour the old Injun Burial grounds where the new Landover Convention Center is being built. But most of all, we enjoyed attending the reasonably priced services at the East Chapel. Rev. Hardwick was preaching his series on Sodomy at the 9 A.M. service. We wish we could have seen Pastor Deacon Fred preach, but we understand that was out of town with William Bennett as part of an outreach program in Las Vegas to call lost harlots into the bosom of Jesus. Maybe next time!"
God is good, and Landover Baptist does its best to give anyone who can afford it, a little taste of Heaven on Earth when they visit their church. Although there is a 4-year waiting list for saved visitors interested in purchasing tickets to a Landover Baptist Church service, exceptions are sometimes made. Please contact the church office for details.

---

---
Copyright 1998-2007, Americhrist Ltd. All rights reserved. Terms of Service
The Landover Baptist website is not intended to be viewed by anyone under 18