Recipe For:
Easter Bunny Stew!
Recipe by Mrs. Billy Ray ("Suzanna Beth") Simpkins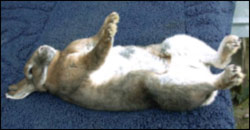 From: "Suzanna Beth's Cookin' For Jesus!" Show - Trinity Broadcasting Network
(Thursday Evenings at 7 PM)
"You Godly folks out there! I mean to tell you, this is one tasty stew worth rising from the dead for! I'm gonna teach you how to prepare a traditional Southern Baptist congregation-pleasin' recipe in a snap! A snap that starts when you snap the neck of a cute little fuzzy bunny rabbit who came into this world just to distract unsaved folks from the real meaning of Easter! Friends, don't waste your time at the grocery store trying to find fresh bunny! With a stack of carrots, you can turn killing rabbits into a fun and Biblically edifying game for your children. Don't let your kids use buckshot -- or you will be picking pellets out of your gums where you used to have teeth, A-men? Instead, give each of your youngins a Louisville Slugger baseball bat and teach them to club them seal style. Or Old-Testament style, as I like to say. That's how Jesus' Daddy, would have done it! Ya'll should be hoppin' around, praisin' Jesus and pulverizing little baby bunny rabbits. This here is some real down home Christian family fellowship time! Glory to God! Your kids will be swept up in the Holy Spirit as they kill bunny rabbit after bunny rabbit, praising Jesus and laughing toward Heaven after each fuzzy white demon squeaks for mercy! Your family won't even know they are saving mommy some precious cooking prep time by actually tenderizing the bunny meat with each deadly blow.
INGREDIENTS:
2 large Easter Bunnies (or five little baby bunnies), clubbed and skinned

3 cups Campbell 's Fiesta Nacho Cheese Soup

1 can Red Bull

4 cans of Budweiser or other premium beer. Don't let Pastor see you buy this! And don't worry - the booze evaporates in the heat.

1/2 to 3/4 cup Kraft Mac & Cheese

1/2 cup Hellmann's mayonnaise

Carrots left over from luring bunnies to their death (cut off any little bunny teeth marks -- no one wants to see that)

2 to 3 cans of store-brand potatoes

1 medium Tombstone "Supreme" pizza, chopped

1/2 cup frozen corn kernels

1/2 cup frozen lima beans

1/2 teaspoon salt

1/2 cup of Heinz ketchup

1/2 teaspoon MSG

1/4 teaspoon ground black pepper

4 tablespoons flour mixed with an equal amount of root beer
PREPARATION:
Have your children peel off all the cute, fuzzy-wuzzy pelts of the bunnies (reserve them to make holiday-themed, furry napkin rings) and rip the flesh from the dead rabbit's brittle little bones. You Martha Stewarts out there will want to reserve the bloody bunny skeletons to make stock, but if you ask me, instant soup is a whole lot easier! In a General Electric crock-pot, combine the hunks of bunny your children have ripped off the freshly-clubbed animal and all the other ingredients. Bring to a simmer and simmer uncovered for 10 minutes. Cover and cook over low heat for no less than four days.
Before serving, ladle a holiday glaze over the stew (you make this by heating a brick of Velveeta cheese-product with mini-marshmallows, 2 cups of brown sugar, a Three Musketeers bar, and a can of Diet Pepsi until they are all gooey, but not boiling). Embed two handfuls of General Mill's Trix breakfast cereal into the glaze. Voila, Easter dinner is served!
NOTICE:
If you really love the Lord, and want to take Easter back for Jesus, Please also try:
"He Has Risen!" The Passion Fruit of the Christ Soufflé
- by Jean-Georges Vongerichten, personal chef to Mrs. Betty Bowers

---

---
Copyright 1998-2007, Americhrist Ltd. All rights reserved. Terms of Service
The Landover Baptist website is not intended to be viewed by anyone under 18