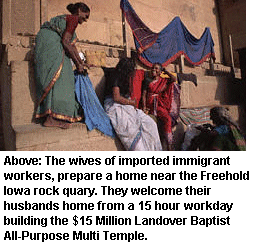 Over 3,000 Immigrants from over 40 different countries have arrived at Landover Baptist Church, courtesy of obedient missionaries. They are here to work for $2.00/hr (more money than they would have ever hoped to see in their lifetimes) building the Landover Baptist All-Purpose Multi Center.

The All-Purpose Multi Temple is a $15 Million project that will culminate in the construction of an edifice resembling the palace of King Herod (circa 35BC -that's 'before Christ'). The Building will be an honor and a glory to God, and will depict our efforts to glorify him through the efforts of man made constructs. (a longstanding tradition, which we will top)..

We face a grave problem in providing adequate homes for our population of migrant workers. Iowa Coal Miners Association has been kind enough to open up their flop houses near the Freehold quary for the time being. These facilities will ensure that our workers are provided an environment that is familiar to that of their home countries, but also a place that is easily modifiiable to suit their primative and barbaric needs.

We anticipate an estimated 7,000 workers to arrive by early August. Many Landover members have already prepared toolsheds, and septic tanks to house some of the Lord's workers. "We are almost certain that most of our laborers will be provided at least a sheet, and a toilet." Pastor Smith stated from the fourth floor of his personal spiritual facility. "We pray that some of our members will find it in their hearts to open up a place on the kitchen floor for a Champion builder, at least afor a night or two."



[<Home] Copyright 1999/C.Harper - AmeriChrist Ltd.