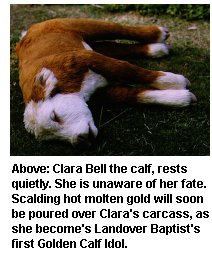 By a unanimous vote in Church Council, a Golden Calf will be placed below the pulpit in the Main Sanctuary on June 1st, 1999. The calf will remain there until July 7th, marking the closing ceremony of Landover Baptist's 52nd Annual Levitical Law Week Celebration. Freehold Iowa Farmer, and council member, brother John Wilkins, was glad to offer recently born calf, Clara Bell. Her corpse will serve as the framework that will be dipped into a vat of molten gold. There is still some debate as to how the early Jews went about this practice. We are uncertain at this point as to whether or not Clara Bell will be placed into the scalding hot liquid metal while she is still breathing.
"We are giving everyone a taste of idolatry, before they actually have to pay for it," Rev. Deacon Fred stated at all 14 Wednesday evening services. He was speaking of Landover's upcoming 'Levitical Law Week' where church members are placed back under the complex system of laws enforced upon the early Jews, for a period of 7 days.. "Members will be subject to all of the laws written in the book of Leviticus by God." Rev. Deacon Fred continued, "You can look at the idol, you can touch the idol, you can even bow your head before the idol, but on July 1-7, anyone caught doing so will be placed under Dr. Jonathan Edwards' care. Under his care, you can expect to be subjected to chemically induced wasting diseases that will destroy your sight, and drain away your life.(Lev 26:18) If you return to the sanctuary and look at the idol again, you will have your home burned down, and be forced to eat the flesh of your sons and daughters (Lev 26:23-29). Folks, let's try to keep the casualty list down this year, and make it a wonderful celebration."
The golden calf is placed in the Sanctuary to provide Church members with a 'virtual' experience. "They will feel like they are going through the same temptations that the early Jews went through," Pastor Smith remarked, "When the 7th day of July is upon us, we expect to melt the gold from the idol, and dispose of the rotted carcass of Clara Bell. The gold will then be cast into a 27 foot cross, that will be erected above the pulpit in the east wing of Sanctuary 11A."



[<Home] Copyright 1999/C.Harper - AmeriChrist Ltd.