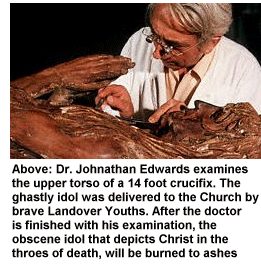 Landover Baptist's first ever, fully authorized youth group outing to local Catholic Churches, met with success. The Saturday morning retreat, allowed our youths to visit up to seven Churches, with the sole intent of finding and smashing to pieces any statue (idol) they could get their hands on. Over 1,000 youths showed up for the mandatory outing. Picnic lunches were delivered to the rubble covered lawn of Freehold's St. Stephen's Cathedral where the kids traded stories of how many idols they'd destroyed. They also had fun playing catch with destrung rosary beads. Some youths visited the train tracks to see what would happen to a decapitated head of Mary if it was placed on the rails. Ted Williams, a High School senior, said it made a 'popping' noise when the train ran over it, and it was smashed into tiny fragments of dust. Hester Walker, a High School junior was surprised to find an open orifice in a statue of Mary Magdeline. She could peer inside and see that the idol had been filled with old coins. The youths made the event fun, by coming up with all kinds of creative ways to smash the idols.
To make the outing more of an educational event, points were given to the student who smashed the most number of significant statues. Statues of Mary delivered 250 points, while statues of any major disciple delivered only 100 pts. Destrung rosaries were one point a bead. Students were given bonus points if they could desecrate a tabernacle, and come away with something interesting. One student delivered a gold box full of saints' bones. The winner of the contest, was 12 year old Nathan De'Angelo, who single handedly dismantled a 14 foot crucifix. He received 1,000 points, when he delivered the upper torso of the grotesque idol to Church doctor, Johnathan Edwards.
As the contest winner, Nathan De'Angelo will be flown on an all expense paid trip to Chino, California where he will meet Pastor JT Chick. Pastor Chick will sign Nathan's Bible, and allow him to sit in on an art session to see first hand how a Chick track is built from the ground up. Nathan will also be given a complete collection of Chick's "Crusader's Comic Book Series."
Landover Youth Minister, Geoffrey Weaver, had this to say about the event, "We give God all the glory here, He sent us a great bunch of kids to work with, all of them were brave. Whenever there was any trouble, if any priests tried to interrupt God's will in having us destroy their idols, they were easily detained by some of our older youths. We hit seven churches, destroyed over 4,000 statues, dismantled all the blasphemous 'Stations of the Cross' pictures at each church, and were able to sack 4 tabernacles. The kids are already talking about doing it again next year."


[<Home] Copyright 1999/C.Harper - AmeriChrist Ltd.