---


It has become necessary to make known to the world our rights as a public institution. Because Landover Baptist Church is seen by hundreds and thousands of viewers on the internet, and thousands more have applied for membership and are lined up at our gates, begging to pay the price of admission to one of our Sunday services, the time has come to let the unsaved public know our position. Pastor Ebeneezer Smith has signed a press release that is to be sent to every major newspaper in the United States. The contents of that press release include a declaration of discrimination which we believe is our Godly right as a private institution. We have printed here for you that very statement.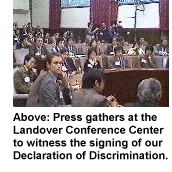 "As a Private Institution, Landover Baptist Church reserves the right to discriminate based on:
Race, Religion, Sexual Orientation, Weight, Age, Income Level, Physical Handicap, and any other attribute we determine is unacceptable to God."
Acceptions to this policy are made at the pastor's discretion. Landover Baptist has over 25,000 local members and 150,000 members nationwide. We have 3,000 major donors, 10,000 minor donors, and a tithing membership of 175,000. Information on initiating a membership application process will be mailed to individuals who pass the one year preliminary application personal history examination. Further questions can be addressed to our public relations coordinator at: pastor@landoverbaptist.org
---
[Home] Copyright 1999/C.Harper .