---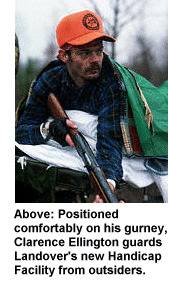 Since we legally have to provide special parking places for our handicapped members, we will now provide special seating for them as well. The dilapidated old supply warehouse, 15 miles away from the Landover campus will go through a $800.00 restoration procedure. It will be fitted with a closed circuit television set, some blankets, drool buckets, old bed-pans, and milk crates. It is here, in this facility that the physically handicapped, mentally challenged, and other trouble makers, will find a new church home.

We will run closed circuit services for 18 hours on Sunday, 12 hours on Wednesday, and Bible teaching, hygiene, seminars weekly. The grass parking lot will be equipped with 100% handicapped spaces, so there won't be any room for complaint. Normal people are not welcome at this facility, in fact they are discouraged from going there, unless maintenance work needs to be done. By giving these troubled semi-people a wonderful new place that they can call their own, Landover Baptist will free up the bothersome handicapped spaces around the main church facility. Everything here meets government standards and be assured that it is completely legal. By making the old warehouse an official part of the Landover Baptist Church, it more than adequately provides for the disturbing needs of Landover's rather large population of 'mischief makers.'

In keeping with the above changes, we will no longer allow the mentally challenged, physically disabled, or any other kind of trouble maker to visit official church grounds. We have been kind enough to provide them with their own facility. They have no reason for coming to the main campus, because they have everything they need in the old warehouse. This move will also allow us to welcome major donors to our campus on a minute's notice. No more scurrying around trying to tuck the riff-raff under the carpets. Our donors will experience a religious environment, free from worldly troubles.