Rebellious Child Unthankful For Having His Teeth Knocked Clean Out of His Sinful Mouth By His Christian Dad After Thanksgiving Dinner

Landover Baptist Holiday Life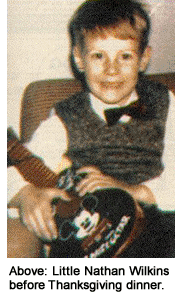 "I got up from the table and smacked him across the face so hard, two of his teeth flew into the cranberry sauce," said Pastor Wilkins. "A son of mine will show respect for his Savior at the dinner table! God would have flayed him alive, all I did was smack him."
The incident took place before this year's Thanksgiving dinner at the Wilkins' home. The family had gathered around the table to pray a special prayer of Thanksgiving that had taken Mrs. Wilkins over two months to write. "We had all memorized the prayer," said Mrs. Wilkins. "We were mentioning every single thing that our Christian family was thankful for. We thanked the Lord for blessing our Christian family with sterling silver service for the 40 people present. We thanked the Lord for blessing our wonderful Christian family with this antique Belgium lace tablecloth, for the Waterford Mauve water stems to serve 40 without breaking into another pattern, and for the wonderful authentic Queen Anne dinning table where everyone was sitting. The prayer went on for over an hour. Little Johnny gave thanks for the Porsche his father bought him for graduation. Michelle thanked God for blessing her husband with enough money to replace her entire wardrobe. Each family member had several things on the list. At the very end, we were quickly gave thanks that Jesus had died for our sins. After we said 'In Jesus name, amen' there was a silence, and then little Nathan said 'a-men.' It was after the prayer was over." Mrs. Wilkins continued. "He spoke out of turn, and did not mention Jesus' name in the 'amen'."
Family members say that Mr. Wilkins face turned beet red. He got up from the table and smacked Nathan across the left side of his face. Two of his teeth flew out of his mouth and he fell on the floor, crying. Later, at the Landover Baptist Hospital, Uncle Ben told the doctors what had happened. Uncle Ben explained that he had asked Mr. Wilkins if he was raising a sissy." "A sissy?" said Mr. Wilkins. "I'll give him something to cry about!" It was then that Mr. Wilkins invited his other sons over, saying, "Come over here boys! Let's show your little sissy of a brother what happens to people who don't say "In Jesus' name, Amen."
When the scene was over, Mrs. Wilkins dialed for an ambulance. Doctors reported that Nathan had four broken ribs, a bruised collar bone, and a fractured skull. "He got off easy," said Landover Pastor Deacon Fred. "A few little bruises is a whole lot better than an eternity in Hell. Nathan should be thankful for this experience. He will come out of this with a renewed respect for Jesus, his family, and the sanctity of Thanksgiving.

---

---
Copyright 1998-2007, Americhrist Ltd. All rights reserved. Terms of Service
The Landover Baptist website is not intended to be viewed by anyone under 18