A Warm True Christian™ Welcome! Subscribe to Pastor's Free GodCasts™!


From behind the world's only bullet-proof pulpit, Landover Baptist Pastor, Deacon Fred, delivers uplifting sermons about eternal damnation, and provides his flock with an unprecedented True Christian™ perspective on current events and media issues. His sermons and commentary continue to be a wonderful source of inspiration for the Truly Saved™ on a daily basis. Get a raw RSS feed of the latest sermons by clicking here.
Pastor Deacon Fred's MP3 LIBRARY:
Peruse the MP3's below to get a real blessing from Pastor Deacon Fred and the Lord Jesus!
60 Second Sermons (mp3)
Short Bits (mp3)
Our Views on Black History Month
Spring Break Warning to Girls!
Are Atheists Crazy?
Is the XBox Cooler Than Jesus?
Mr. George Lucas
WWJD Thongs Prevent Rape!
Homosexuals in the Hallways
Breastfeeding is a SIN!
Harsh Words For Sissy Christians
The So-Called Science of Language
Let's Burn Us Some Witches!
Potter Book Burning (Radio Promo)
Our Plans for Halloween!
Fight Demoncrats on Halloween
Sweet Anointing
I Believe In Unicorns!
Book Release Announcement


A Page From Welcome to Jesusland


The Devil Now Wears Sequins!
Those Damned Scientists!
A Word On Halloween
Does Jesus Watch Me Go Poopy?
The Six Levels of Tithing
Pokemon = Pocket Demons
Do Pets Go to Heaven?
Saint Patrick's Day Message
Pastor's Easter Message
The Real Fantastic 4 is 3!
Harry Potter Prayer Chain!
Spiderman: Arachnid Bestiality!
Annual Christmas Message
A Christmas Children's Poem
Injun Witnessing Tips
Leftovers for the Homeless
Injuns: America's First Terrorists
Pastor's Thanksgiving Message
Jesus Has Zero Tolerance for Wiccans




C-SPAN Coverage of Pastor's Message to Godless Americans

Get Your Feet Hot for Jesus!
An Egg on the Devil's Hiney
Greedy Jew Friend
Hermasexshurals
Praise Jesus!
Blasphemy!
Preaching From the Ass
Jesus Sees You Peekin'!
Shotguns in the Bell Tower
Tied Up in the Church Cellar
Sodomized by Demons
Mary Worshippers!
Smacked Upside The Head!
You Better Love Jesus
Ping Pong With Your Testicles!
Why Are We Here?
Set That Boy Straight!
A Beehive in Your Butt
Bibleholic
Tip Toe Across the Lake of Fire
Wiccans in the Attic
My Memory of Wicca is Buried
Witches Tresspassed!
Wiccans Really Love Lucifer!
Turkeys & Injuns
Hunting Season on Liberals
Keeping WICCANS Away
How to Trap a Live WICCAN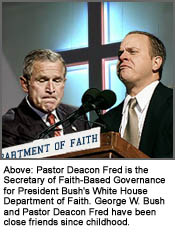 Our Godly and handsome Pastor has managed to get the Gospel message of Jesus Christ delivered on Jewish owned radio stations in New York, San Francisco, Baltimore, Washington DC, Dallas, Kansas City, Los Angeles, and Des Moines. Pastor Deacon Fred has been the only True Christian™ to be invited to speak at Secular Humanist, Atheist, and "so-called" free thinkers conferences around the Globe. He always wins the hearts and souls of the unsaved audience, and comes back home to Landover Baptist with a list of new tithers. Pastor Deacon Fred makes available through this web page, the previously classified, 60-Second Sermons CD. Check back to this page on a monthly basis to look for new audio sermons and media clips of events from the last living messenger of the one True God of the Holy Bible, Pastor Deacon Fred.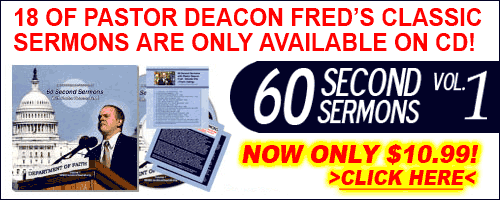 ---

---
Copyright 2000-2008, Americhrist Ltd. All rights reserved. Terms of Service
The Landover Baptist website is not intended to be viewed by anyone under 18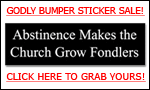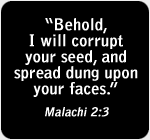 Biblical Wisdom Gear!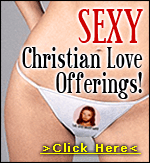 Get Your Holy Thongs!