---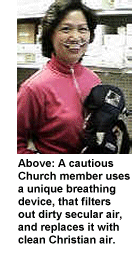 A recent commercial that featured a homosexual man overcome with 'giddiness' after breathing oxygen, so upset Rev. Ebeneezer Smith, that the pastor had to be rushed to the hospital. He spent three days undergoing treatment for mental distress. The ad featured the product, 'oxygen.' A common material used by every day people. Church officials noted that the ad depicted an effeminate man who pranced about like a showgirl while spouting off liberal rhetoric about the benefits of 'clean air.' When Pastor Smith recovered, he described the commercial as "nauseating," and said that he couldn't stop throwing up when he saw it. "It ruined my dinner, at it ruined any ideas I previously entertained about this country moving closer to God," he remarked.
In a sermon, the following Sunday, the pastor stated that, "even the air we breathe is being permeated by the vile bacteria of Sodomy." Members applauded Rev. Smith's ensuing ban on oxygen. He noted, that "the liberal media has taken away something everyone holds precious" and "the only way to stop the insanity is to fight back!"
In order to remain alive, or at least in a temporary stasis, church members will be equipped with state of the art 'oxygen transferal units.' These units will take the filthy, dirty, morally polluted secular air that circles most of the globe, and transform it into Christianized air. "This air will be better than the air everyone else is breathing," Pastor Smith assured. "It will be similar to secular air in every way, only it will be 'Christian,' so it will be better.
A team of experts, led by Dr. Jonathan Edwards, is hard at work on developing a method by which the air can be made sacred, and at the same time be easily distributed in fashionable containers. "We would like to make this as simple as possible for all of our members," Dr. Edwards noted, "everyone must be required to purchase their own containers in order to keep the cost down." Church members can still expect to see a substantial increase in tithe, however. The undertaking has already cost $14 million. Pastor Smith assures everyone that God is smiling at every penny spent.