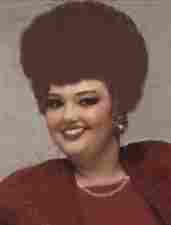 Proudly introduces an Evans Turner Graham gated community.
Exclusively for Landover Baptist Church Members...

APOSTLES GROVE


"Fine Equestrian Estates For Discriminating Christians"

Come home to to the good life that The Lord has provided. Winding drives lead to rolling meadows and palatial estates for the most deserving Christians. Sinless living in a Country Club setting means you can share fellowship & worship with your friends without leaving the community. Professionally managed Homeowner's Association qualifies and selects the right kind of neighbor. So you never have to worry about your property values going down due to the wrong element purchasing down the street. In fact, the darkest living thing you'll find in this community are the rare Dark Spotted Owls located in the community Hunting Lodge. It's as if the Lord himself has created this community of fine homes so you can have a taste of what's in store for you in Heaven.
Gretchen Furman, Morrine Little, Kitty Harrison, Roma Everett, Mary Ellen Ward, and Joan Ellington are on site in the Sales Center Monday-Saturday to assist you in finding the perfect home for your Christian family. Qualified buyers welcome. By appointment only.
Feature Property
"Wealth and riches shall be in this house: and righteousness shall endureth for ever. Pss.119" - God
1380 Apostles Park Court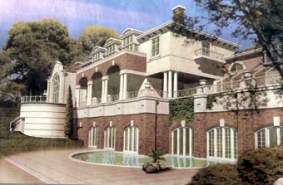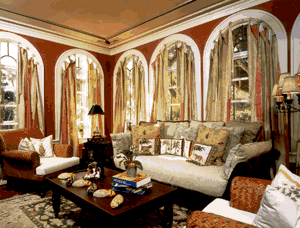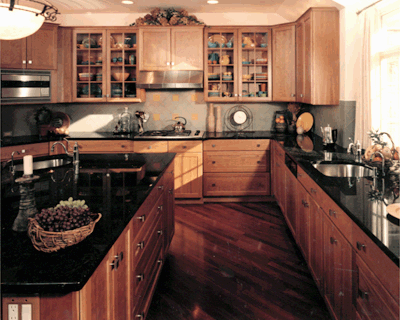 Nestled on a hill atop the most beautiful 20 acres of gently rolling meadows that the Lord hath created. This this lavishly furnished 29,000 square foot custom-built home is a haven of elegance and luxury. Exquisite details enhance this perfect family home, including a hand-carved stairway with carvings of Famous Old Testament Stories, a luxurious Master Suite with an gold leaf fireplace, 1200sf prayer/sitting room, His and Hers Baths and walk-in closets with extensive built-ins. The Kitchen features rare Brazilian blue bahia granite, 24k gold fixtures, three ovens, Sub Zero walk-ins, fireplace and full-service butler's pantry. The Sun room, off the majestic 1600sf entry Foyer, features a hand painted ceiling depicting the Last Supper and beautiful imported Amazon Rain Forest Wood Judges Paneling. Indoor and outdoor swimming pools, bowling alley, indoor skeet/racquet ball court, Separate prayer chapel seats 200. Total security is afforded by perimeter fencing, 400sf Guard booth, 12 foot stack stone property fencing, and the latest observation technology. The Lord wants your Christian Family to close on this gracious home before March 2002 and receive a $125,000 decorating allowance for the 4,000sf four bedroom guest wing. $14.5 moves you in for the Holidays! Call Marla Jennings to pre-qualify for a tour of this Christian Fantasy Home.
BLS #299736
1600 Pastoral Avenue Northwest
"Oh, God hasn't forsaken you. He's just lost in this 27 room Georgian mansion and can't find you!"

Only the chosen few deserve the splendor that this 8BR/10BA beauty has to offer. Count your blessings because this home has His & Her Master Bedrooms! 12 acres cross fenced with a private Polo field for the kids. Over 9,000sf and that's just the first floor! Did I mention the Solar heated Baptismal? Grab your check book & Call Kitty Harrison today. $8.7 BLS #238667
1822 Deacon Boulevard
"Jesus? Do you like it Bare back?

Well, if you do this is the Equestrian Estate Home for you! You can ride for hours without seeing another soul on this secluded 11.5 acre cul-de-sac lot. 10 foot stone wall keeps the kids & horses in and the undesirables out! Main residence features 6BR/7.5BA, Commercial kitchen, Imported slate, marble, & crystal abound. Security camera allows you to keep an eye on the 3BR/3BA servant's cottage. God wants you to buy this lovely home today. Gretchen Furman, Owner - Broker. $9.9 BLS #236363
2173 Evangelical Place
"I'll Fly Away, Oh Lord, I'll Fly Away"

From this homes roof top heliport with 12 all weather landing lights & PABX system that is! 12,700sf, 6BR/7BA, Separate guest & staff quarters, Granite Kitchen, Olympic pool, 6 stall stable, 9 acres & much more is for the homeowner with as much money as blessings. Call Roma Everett today to see if you qualify for a tour of this magnificent estate. Price upon request.BLS #238667

1984 Pastoral Drive
"Praise The Lord! It's back on the market
and it has it's own Rapture Chute for easy
access to to Glory!"

Along with a 2,500sf Master Suite, 6 guest suites, 2 kitchens, 12 stall stable, 18 acres, Pool, Regulation clay tennis, Prayer Chapel, Chef's kitchen and secret garden this home has a 72' observatory tower with elevator & professionally decorated seating for 50. Wait for the Second Coming in style. Call Kitty Harrison for brochure & pricing information. BLS #234497
1466 Crusade Park Drive
"Jesus? Is that you standing in the courtyard fountain or is it just a hand carved marble replica?"

The image of Christ can be found everywhere in this 8,600sf home. He is hand painted on the 30 foot high breakfast nook ceiling and hand carved into every solid mahogany door. His face is even depicted as part of the imported mosaic tile in each of the 9 baths. The presence of the Lord is especially notable in the master bedroom in the Cross shaped tray ceiling. Situated on 10 fenced & cross fenced acres this is the perfect home for the avid Jesus lover! See Gretchen Furman for a video brochure of this lovely home. Price upon request for qualified buyers. BLS #232869
3187 Revival Avenue South
"Former Leveticus Parade Home!"

"God, you won't find a sinner in this stunning 11BR/13BA show stopper!" In fact, this home was designed to deter sin. Hand painted ceilings in every room feature scripture and scenery from Leveticus. His/Her bedrooms with over 2,000sf each offer closeness but not temptation. Separate Menses Cottage for the ladies keeps this house untainted. Outdoor patio grill doubles as sacrificial altar. Prayer rooms off each bedroom. A 30' solid, hand carved, Italian marble Crucifix welcomes you in the foyer of this gorgeous Christian home. No mixed races living under this roof because the servants have their own 4BR/4BA detached Carriage house apartment. If Sin-Free living is what you seek then look no farther. $11.2 moves you in. Furnished. Call Morrine Little for a tour of this Heaven on earth. BLS #232745
1672 Deacon Boulevard
"This Christian Cottage Cutie Says Starter Home To Me!"

Gourmet kitchen has double laundry & two stoves for her and Game Room has Ethernet Connection and full gymnasium for him. 5,000sf, 7BR/8BA, imported tile, imported Rain Forest wood floors, make this the perfect home for the growing family. Au Pair Suite has separate kitchen & sitting area. Situated on 4 wooded acres that back up to the Landover Nature Preserve. Caged swimming pool has Cross shaped hot tub! Priced at only $4.6. Builder pays closing costs if additional 10 acre parcel purchased at same time! Call Joan Ellington today! BLS #237663
5240 Our Creator's Lane
"He shall build an house for my name, and I will stables the throne of his kingdom for ever."

Then I'll sell it to you as per His request! The Lord is telling you to buy this Godly palace today! Over 11,800sf heated & cooled. 8 Zone HVAC, 5BR/6BA in main home, 2BR/2BA Staff quarters, 3BR/3BA Guest/Pool house. Sub Zero kitchen has Tiffany sky-light! 9 acres fenced/cross fenced, H/C central HVAC in stables, indoor lap pool/Baptismal means you can burn calories or get re-born without leaving the house! Call Mary Ellen Ward today for a tour of this $7.9 beauty. God wants you to! BLS #231020


*Marla Jennings Christian Realty is a proud member of the Baptist Listing Service. "All Baptist. All The Time"
Marla Jennings Christian Realty Home

Marla Jennings Christian Realty Commercial & Vacation Division

Sister Taffy's Friends Of Baby Jesus
The Christian Home Page Of The Foremost Authority On All Things Biblical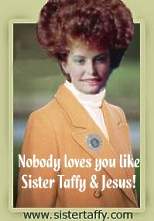 Copyright © 2001-2002 Sister Taffy. All Rights Reserved.