Landover Baptist Academy for the Saved™ (Grades 1-6)

Thanksgiving Art Contest Winners!
Freehold, Iowa -
This November,
Christian History students at Landover Baptist Academy for the Saved were given boxes of crayons and each asked to draw a picture that would help stamp out the PC Liberal lies about Injuns being polite and helpful guests at the first Thanksgiving. The best drawings were entered into a Godly contest and the winners are posted below. Thanks to all of the Christian children who were finalists!
First Place Winner: Randy Donald (Grade 4)
Prize Selection - Super Mario Brothers Wii with Parental Controls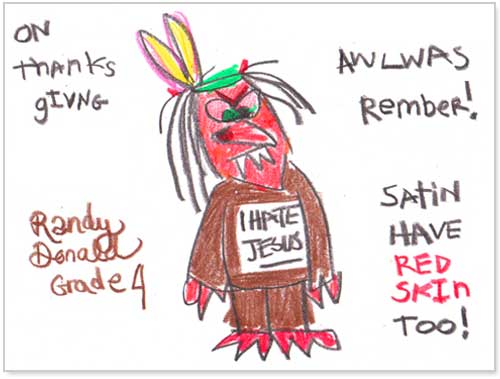 Second Place Winner: William Carver (Grade 5)
Prize Selection - Creation Science Chemistry Set from Zondervan™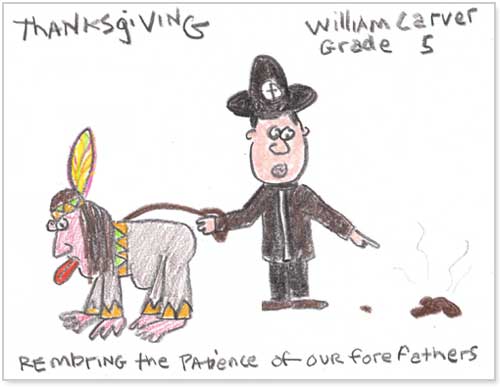 Third Place Winner: Billy Preston (Grade 3)
Prize Selection - Kirk Cameron's Armageddon Recon 4 for Playstation 1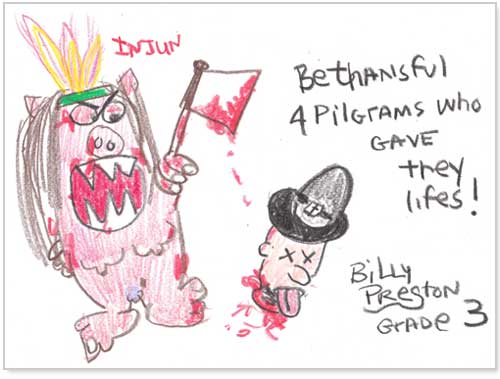 Honorable Mention: Timothy York (Grade 10)
Prize Selection - Timothy is a mentally retarded boy who is in Grade 10 but attends classes with students at the 4th grade level. He is a gifted artist and the judges thought that his drawing was one of the best. He does not receive an award, but he does receive our prayers each day that the demons of retardation be loosed from his soul. We pray that Jesus will free him from demonic bondage and allow him to be a worthwhile, productive member of America's Christian society.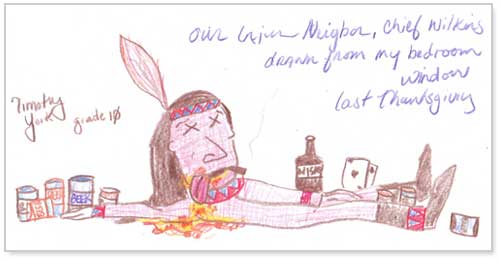 ---


The Landover Baptist Church® is not intended for readers under 18 years of age.
About landoverbaptist.com/.org | Advertising information | Help/Feedback
Join Us | Terms of Service | Plan Of Salvation | News Archives | Read The Mail We Get
A Sneak Peek Inside Our Book: Welcome to Jesusland!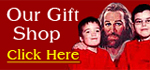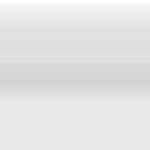 IDENTIFY YOURSELF!