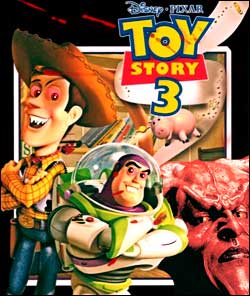 The disgusting, lewd little toys from the Toy Story movies use their tiny legs and arms to crawl up from the hot-rocks (pixars) in Hell and peek their demonic heads into the doors of Hollywood producers every 10-years or so. Their goal is to use their cunning smiles and convince Hollywood executives into signing a contract with the Dark Toy Master, Satan and ultimately get hired to act in another Toy Story movie so they can seduce and deceive another generation of innocent little children!
"Here at Landover Baptist Church, we see things through the eyes of Jesus Christ, the resurrected Son of the Living God," says Creation Scientist, Dr. Jonathan Edwards. "So its going to take an awful lot more from Satan to get us to fall for silly ideas! Toy Story 3 is another one of the Devil's silly ideas. I believe he signed all of the original cast members and dozens more to create what we here at Landover Baptist Church call, 'Lucifer's Cartoon Army From Hell.'"
"We've seen this trick from the Devil before," says Edwards. "He thinks he can use cute little cartoon toys to secretly make our children curious about imaginary things and fantastic stories which have no grounding in the Bible."
"Every True Christian™ worth his salt knows that the Bible doesn't mention the word, 'toy,' says Edwards. "Toys are unbiblical, unscriptural, ungodly, and in direct conflict with God's word! Toys must not be found in a Christian home! As True Christians™ who follow God's word, we are commanded to 'Abstain from all appearance of evil' - 1 Thessalonians 5:22. This includes consorting or fraternizing with toys. A Christian must never touch a toy! Nor should they view motion pictures with toys in them! If Jesus comes back, and finds a toy in your home, you can bet your bottom you'll be left behind!"
"The only time a Christian should risk his own salvation to handle, watch, or study a toy's behavior, would be in a case like mine," says Dr. Edwards. "And I am a professionally certified Creation Scientist - my purpose in studying a toy of any sort is to warn others of their dangers!"
"I believe that Toy Story 3 will forever serve as a reminder to True Christians™ that these are the Last Days," says Dr. Edwards. "We know the Devil is beginning to run out of tricks! But the one trick he enjoys squeezing out of his steaming red rump the most is to get folks to question reality! The best time to start someone on questioning God's reality is when they are knee high to midget's chin! It is our children he's after, see? And if you don't take them to Sunday School to learn the truth, they will wind up sneaking out to watch movies like Toy Story 3. If that happens, they will start questioning reality outside of the Bible! And some of them might even turn to answers from Satan's twisted coven of deceptive little Toy Story demons who return again and again from the fires of Hell to steal your child's faith and salvation!"
Dr. Edwards explains that the way to teach a child about reality is to drop them off at Sunday School instead of dropping them off at a movie theater. "I've seen it too many times!" he says. "It is in Sunday School where a child will be filled with the Holy Ghost for the first time! It is only when they meet the Lord Jesus Christ and accept Him to come and live inside their heart that a child will begin to understand reality!"
"A Christian child will find silly fictional cartoon movies about Toys absolutely dull in comparison to the truth they will glean from the Holy Bible," Dr. Edwards explains. "The look of realization on a little boy's face when his Sunday School teacher reveals that Hollywood is run by packs of prancing red-skinned, hairy-hoofed, lisping demons called homosexuals, is a priceless joy! A child's soul is filled with a tingling sensation! An epiphany! They understand (along with momma and daddy now) that the Devil and his army are afoot! They are marching right into their neighborhood theater, their long red arms and filthy fingers filled with the hellish twisted toys they forged in the Lake of Fire!" he continues. "There are powerful demonic forces in the invisible world around us. And they are intent on luring little children into watching movies like Toy Story 3 to fill their innocent minds with the most fantastic, ridiculous, ludicrous ideas ever hammered on a hot rock in Hell!"
"It has become harder and harder for churches these days to compete with the Devil run media," says Edwards. "Sunday School teachers need to catch up with Satan! A-men? While Lucifer lures children with pyrotechnics and fancy graphics like the ones in Toy Story 3, Sunday School teachers are left to compete on the front lines of a spiritual war for your child's attention using nothing more than cardboard cut-outs of Jonah and the Whale and magnetic felt figurines of Adam and Eve!"
"There was a glimmering hope that Christians had a chance to better compete with the Devil's high-tech temptations on the silver screen several years ago," Edwards explains. "It was called, Veggie Tales - and it was prayed over by millions of believers. But it wasn't long till we found out Satan was with Veggie Tales from the start! Anything with the word 'tail' in it should have raised suspicion, but after the CEO of Veggie Tales Inc. ordered the creation of 'Larry the Talking Cucumber,' it became even more obvious. The Lord finally revealed to us that "Veggie Tales" was actually "country queer slang" for 'corn-cob up the hind-side,'" he said. "Yes, my friends, not all homosexuals live in big cities - the country ones tend to be migratory and a far more dangerous breed of queer, but that's a whole other discussion."
According to Dr. Edwards' Creation Scientific formulas, he estimates that the souls of close to 34,314 children a day are currently being led astray from Christ by watching Toy Story 3. "Those numbers don't include all the souls of children lost to Satan when their unsaved parents purchase a teddy bear or a Barbie Doll for their birthday," he says. "Those numbers are far worse, and sadly the Lake of Fire is filled with the bobbing heads of little boys and girls who traded their love of Jesus for the love of a little toy. Most of the little children burning in Hell today, are actually there because they never even heard about Jesus!" says Dr. Edwards. "If it weren't for Godly men like me, who have the guts and Baptist decency to tell the truth, things would be even worse!"
Dr. Edwards encourages all Baptist (Christian) families to rid their homes of toys and replace them with Chick Tracts or Children's 1611 King James Bibles. "If I could visit every Baptist home in America, slap each little Christian child across the face and tear each silly, ungodly toy out of their ignorant little hands, I would!" says Dr. Edwards. "But that's your job as a parent! And if you don't do it, JESUS WILL! Besides, I have a very busy schedule."
Dr Edwards concludes that all Jesus really wants from each parent reading this article is to make a firm commitment to God. "Change your child's life today by removing all toys from your home. Escort your child into the backyard and as a loving parent, force them to watch as you burn them all as an offering to Christ Jesus. Crane your child's neck in such a way that they will smell the sweet smoke of repentance drifting up from their past life into the pleased nostrils of our Living God! It will be a memory that will hopefully secure your child's salvation and stay with them for the rest of their sinful, pathetic life."