11-Year-Old Girl Learns to Have Sex By Watching Britney Spears Video
Action Alert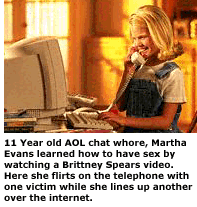 Freehold, Iowa - This once Godly country has now sunk a little further into its amoral quagmire as it wallows its way back to Gomorrah. Martha Evans, an 11 year old strumpet, had her little harlot hiney dragged before court last week for luring filthy foreign men to her "Little Mermaid" decorated bedroom. Once these men had snuck into her room, Martha would perform sex acts with them that she had learned from watching a Brittney Spears video. As soon as her sated visitor would slump back out the window, the little tramp would log back on to AOL in search of her next victim.
What has happened to this world when little American girls are acting like Siamese sluts and doing NC-17 things before they can even get in a PG-13 movie? Unless you are planning on giving birth to the Son of God, girls under the age of 12 are not to participate in sexual activity of any kind. Just because the Lord God courted and wooed Mary when she was 12, doesn't give every little nubile pre-teen the license to spread her legs every time someone she doesn't know appears at her window and says flattering things to her!
To set an example, Republican, Born Again Christian Judge, Henrich Larson sentenced Martha Evans to have all of her fingers removed with a butcher knife. "That 11 year old AOL Chat Whore will no longer be able to tempt men old enough to be her daddy in AOL chatrooms if she can't type!" Larson stated. "I sentence 11 Year old seductress, Miss Martha Evans, to have all of her little fingers on her right and left hands removed from the second knuckle, and both thumbs to be severed by a knife in the presence of Landover Baptist Church Deacons. All revenues for the cable pay-per-view of this historic event shall inure to Landover Baptist Church for making the room, Bible and knives available."
The incident that provoked such a response occurred Tuesday evening when Martha's parents, Billy Ray and Edna Evans, found 28 year old José Luis Rafael Gonzalez Sanchez Paco Henriquez hiding in Martha's toy closet. She had apparently lured him there from a "Harlots4Satan" chatroom in 'cyberspace.' The Mexican man (who has since been sent back to that Catholic cesspool he snuck out of 2 years ago) said that Martha had lured him to her bed from an AOL chatroom. In Henriquez's words, "Me no too much the English, pero me know 'I like sex too much with the finger.'"
"Let this be a lesson to any other young loose-legged tart who lets the demon of puberty control her thoughts!" Judge Larson stated. "It's not the parents' fault. It's not God's fault. It's not that stupid stinking Mexican boy's fault who was tricked into sticking his fingers into that tramp's vagina. Let's lay the blame at the feet of the harlot who caused this whole disgusting situation in the first place. Brittney Spears. The court takes judicial notice of the fact that Satan bought that nubile little vixens luscious new perky breasts last year solely to tempt Godly men into thinking about things that offend the Lord. The court, however, regrets that it does not have personal jurisdiction over Miss Spears and her fingers, but it can teach little Martha here a valuable lesson. That is my final Christian judgment before God. An eye for an eye; a tooth for a tooth; and a finger for a finger!"
Shocking Sexual Secrets Exposed From America's Former Baptist Female Celebrities in Our Bestselling Book:



Click Here to Have a Naughty Peek!:
---

---
Copyright 1996- 2008, LandoverBaptist.Org. All rights reserved. TOS. The Landover Baptist website is not intended to be viewed by anyone under 18.