True Christians™ Helping Families in Need: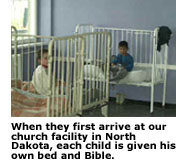 This is a tough economy. We understand that people are suffering because of what Bill Clinton did, and sadly, American families will continue to suffer for many years until President Bush can come out of retirement and fix the mess Clinton made of the country. In any case, hard times call for extreme measures and Landover Baptist Church (being the largest and most powerful body of worthwhile Christians to ever exist) is offering a lending hand to families in need. We understand from what we've seen on TV and heard from Christian radio talk shows that millions of families in America have difficulty supporting their children. This might come as a surprise to you, but we'd like to take one or two of them off of your hands, and we'll pay you for it! Our church has been doing this locally and statewide for over two years now, and we want to offer this wonderful opportunity to the rest of America.
There is little effort required on your part. You need only sign a few forms, say goodbye to your child, and you are handed a gospel tract and check . All you need to do is get your child to the booth at the front gate of our 1,840 acre church complex in Freehold Iowa. After a small wait, you will appear before a judge, sign the papers, and your child will become the sole property of Landover Baptist Church.
How Much Will We Pay For Your Child?
Landover Baptist Creation Scientists have used Scripture to calculate every amount of payment except for the price of white females. Scripture teaches us that females are worth less than men (Leviticus 27:1-7), but since these are the last days, and the present economic and international situation is unbalanced during this time, we found it appropriate to modify the pricing where necessary. Members of the Young Christian Soldiers Program released these figures after days of concentrated prayer and meditation. We're also taking a big leap by jumping on the "politically correct" bandwagon here and announcing that the word "Colored" does not just refer to Negroes. It also includes Mexicans and any race of people visibly tainted by the sin of Ham (Genesis 9:20-28). And just because Negroes have smaller brains and extra bones in their ankles doesn't mean we should be prejudice toward their children. We are all God's people, even if we are of lesser value to Him because of our sex or race. Please note that the pricing table below reflects current rates as of January 17, 2003.
· Colored Males Under Age 12: $1,250.00
· Colored Females Under Age 12: $1,152.00
· White Males Under Age 9: $15,000.00
· White Females Under Age 9: $18,000.00
How Do We Afford This Godly Effort?
It's as easy as pie! Since each child we purchase is part of an effort to develop the Landover Baptist "Young Christian Soldier" Outreach Ministry, the little boy or girl is actually a living, breathing, tax write-off for as long as he or she lives. The United States Government and taxpaying citizens take care of every single expense we incur as a result of our tax-deductible purchase of your child. It's a win-win situation for our ministry, and a terrific way of training up young champions for Christ using the tax-dollars of American citizens.
How Many Children Do We Need?
Frankly, we don't intend to stop purchasing children until Jesus comes back. The Young Christian Soldier Program in North Dakota is growing quickly. Each child we purchase starts working right away on building house cages and latrines for even more children that arrive by the trainload every single week! Over 1,400 desperate families in Iowa have already sold their children to us, and we need more!
What Are We Using the Children For?
All children (except for a few colored children selected to enter the Landover Baptist Sanitation Ministry) will be shipped off to North Dakota to our Young Christian Soldier missionary training camp. When they turn 13, they are old enough to live on their own in a hostile, foreign country. We ship them off to Africa with a KJV Bible and a box of pre-addressed tithing envelopes to pass out to the locals.
What are You Waiting For?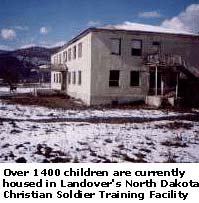 What an opportunity to get back on your feet and get the financial help you so desperately need! Creation Science teaches us that once a child is away from the home for more than 3 months, parents will just forget about them. We don't care if you are unsaved or saved, we just care about your children and the chance to help them become Champions for Christ. If you are considering selling your child to our church, contact our Christian Soldier Ministry immediately! Click here to send an e-mail and get directions to our church where you can drop off your child.
Note:
Parents who sell their children to the Landover Baptist Ministry may not contact their child or retain legal guardianship of their child after the forms are signed by our judges. If you have any doubts about selling your child, or any legal questions, a Landover Baptist Lawyer will be on hand during the transaction to assist you.
---
Copyright 1998-2009, Landover Baptist World Wide True Christian™ Ministries. All rights reserved.
The Landover Baptist website is not intended to be viewed by anyone under 18. Even Saved Folks!