Sexually Suggestive Star Wars Candy To Be Marketed To Children!
The Sick Mind of George Lucas!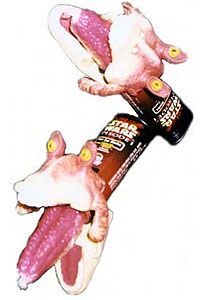 The new Star Wars movie isn't even in theaters yet, and already George Lucas is up to his usual hijinks. Our lone Christian mole (who has been working undercover at the Skywalker Ranch in California) informed us that Lucas is planning to re-release the disgusting Jar Jar Binks candy sex tongue toy he created a few years ago in his secret laboratory. The self-contained private laboratory where Lucas performs evil experiments with miniature characters from his Star Wars films is located one mile below the surface of the earth, directly under his Skywalker Ranch. "When that pervert unleashes those demonic candies on this world again, expect a public outcry so loud that Christ in in Heaven will drop a handful of sinners He was about to toss into Hellfire to cover His ears for the noise! Glory to God!" said Pastor Deacon Fred. "We intend to stop this depraved atheist maniac before he turns everyone in America into a homosexual!" The Jar Jar Binks candy sex toys contain a 10 inch push-up tongue made of strawberry flavored candy. "The tongue is shaped like a male sex organ," reports one Pastor. "It is hard, and has a flushed red color, suggesting a youngster wrap his or her mouth around a fully aroused genital. Parents across the country are once again going to start purchasing this 'innocent' novelty for their youngsters, completely unaware of it's demonic nature."
Related Action Alerts: Click on the links for Godly details!
Click Here To Check For The Latest Alerts!

After the first Star Wars film was released, one innocent Christian mother brought the toy home for her 3 year old son. She had no idea what it was, because the demon's mouth was closed when she purchased it. She turned her head for an instant and when she looked back and saw her young son sucking on Jar Jar's tongue, she fainted on the spot. It took a team of four paramedics to bring her round. The boy was punished, and the candy destroyed.
"This toy was created for one purpose, and one purpose alone!" says Pastor Deacon Fred, "That is to train a generation of children in the ways of carnality! One need only glance at the toy to see it's true intent! If you can't see it, then you are just as perverted as this so-called director, George Lucas, who is really nothing more than a mad-scientist! As an institution ordained by God it is our responsibility to expose this Christian Nation to the absolute truth!"
As we intend to do with the release of each Star Wars film, we ask you to please use the list below to contact National toy stores, and toy distributors. Tell them that you will no longer shop in their sickening, disgusting, perverted stores until the abomination is removed from the shelves! Tell them they have push-up candy sex tongues for sale and you won't shop there until they take them off the shelves!

Contact These Stores by Clicking. Once you are there, send an e-mail complaint! These are the main pornographers, contact your local toy stores as well! Don't shop there till we win this Christian Battle! Praise!



Update:
Glory To God! Because of our Christ-Like efforts, Wal Mart has decided to remove the demon from store shelves! We would like to thank concerned Christians everywhere for joining us in this campaign against pornography! See the letter our Pastor received below.
Dear Sir,
I am sending you this letter in regards to the email we got about the Jar Jar Binks Candy tongues. I am very sorry you feel this way about this product & I would like to know the store location that you shop at. If you could provide me with the address, city & state of the store I will call the store & have them pull the product. Thank you for your time.
Carolynn Hayes
Wal-Mart Stores, Inc.
Impulse Merchandising
501-XXX-XXXX
XXXXXXX@wal-mart.com
The Landover Baptist Church would like to thank Mrs. Hayes and Wal-Mart for taking a stand against George Lucas and his Demonic attempt to corrupt youthful innocence. As of this day, all Wal-Mart stores in Iowa have had the candy sex tongues removed. Mrs. Hays' number is available to any bold Christian who would like to call her -upon request.

---

---
Copyright 1998-2007, Americhrist Ltd. All rights reserved. Terms of Service
The Landover Baptist website is not intended to be viewed by anyone under 18