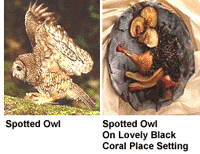 Freehold, Iowa - The Landover Baptist Endangered Species Dinner has been a church tradition for the past 16 years. Pastor Harry Hardwick says, "That was about the time that those communist William-Jefferson-Clinton-electing liberals started belly aching about there only being a handful of South American red-spotted wharf-rats. That was the final straw for us. The Lord has given us all the animals – whether there be a million of them or just one little, bitty one hiding in a tree somewhere – to smack over the head, rip the skin off and barbeque. And this dinner is our way of showing that we follow God's dietary laws – unless they are those annoying Jewish ones – and don't pay a lick of mind to those whining tree-huggers."
Added Mrs. Betty Bowers: "Both God and I truly laugh at these foolish people who talk about animals being endangered. They run around like Henny Penny when there are only ten left of a given species. Such unseemly alarmism! Christians don't need zoologists to let us know how many of a specie the planet needs. Genesis tells us this. As Baptists, we have memorized the historical facts in the Bible about Noah. So we know that all you need is two of any specie. The rest is gravy. Literally."
The Landover Baptist Christian Gourmet Society™, in conjunction with The Hardwick Steak House, have officially announced that the 6th annual Endangered Species Dinner for Platinum Tithers will be held annually on the East Lawn on June 1st. Diners will assemble at 6:00pm (sharp) at the Landover Petting Zoo to kill their choice of entrée. "It will sort of be like those fancy restaurants that have aquariums with lobsters in them," said Pastor Deacon Fred. "We're going to have some Spotted Owls in the trees next to the rifle range and folks can pick off the ones that look tasty. You just can't get Spotted Owl fresher than that." This year's theme (as every year's theme is) is taken from God's commandment in Genesis 9:3 "Every moving thing that liveth, shall be meat for you." Entertainment will be provided by the Light Singers and the Dancing Christian Little People Ministry. The dinner is by invitation only. RSVP by May 25th.
Three-hundred tables will be set for roughly 800 VIP church members. The seven course meal will be served on custom burnished black coral place settings with African Elephant ivory service. Each table is made from pure California redwood.
To get a glimpse of the savory delights that await God's Elect, we have included the menu here.
ENDANGERED SPECIES DINNER MENU

Before Dinner Drink: Nectar of the Haleakala volcano flower in commemorative native-carved ivory cups (limit of 24 per family).

Appetizer: Black Footed Ferret Bisque with Spotted Owl Egg Confetti Garni

Salad: Seared Breast of Whooping Crane Roulade with Haricots Verts and Sun-dried Grapes. Served with Oil of Baby Dolphin Lips Dressing on the side.

Entree: Roasted Florida Panther, Baby Sea Turtle fins and White Tiger Meat Cassoulet. Served with vegetable tortino and Provencale sweet onion tart.

Entree: Spotted Owl je'dué noi with poached tail of African Rhino. Served with purple Bali cabbage chiffonnade and fumet of rare mushrooms and lingo berries.

Dessert: Sweetened Rhinoceros crème brûlée or caramelized Vancouver Island Marmot Soufflé with Crème Anglaise.

After Dinner Drink: Panda Juice with or without pulp and/or paw

Fellowship Dessert: Surprise delicacy dependent on most endangered species within a given year.

Dinner will be served by the last remaining members of the Anasazi Indian tribe, all of whom were accidentally sterilized by Landover's high-power microwave ovens in the kitchen.
For aesthetic reasons, no warning signs were placed in the kitchen. However, Pastor Deacon Fred assured all Platinum Tithers that letters were sent out to all church members, telling them not to go beyond the lead doors. "If those Indian people cared so much about having children," commented Mrs. Bowers with a look of skepticism, "they certainly could have asked." Landover Baptist has found that there is a price to be paid for a 20-second baked potato and that is sterilization and a complete loss of body hair. "Although, an all-night shift did cure a pastry chef and the plate-washer of cancer," noted Deacon Fred. "Praise the Lord!"
The last remaining members of the Anasazi Indian tribe will stay long enough to clean up the meal, after which they will be given Styrofoam containers with leftovers as pay and shipped back to their trailers in Arizona. "We are borrowing them." Pastor reported. "We don't have to pay them injuns a dime."
Pastor also notes there is usually a surprise Fellowship Dessert each year! "I have a missionary in every state that owes me a favor, including those who live around oil spills and natural disaster areas," he says. "And they bring in some mighty fine tasting morsels for the people of God to savor before our Holy Father wipes them off the face of the planet! Glory to God and pass the pepper!"