Wiccans Found Dead in Church Garbage Dumpster

Local News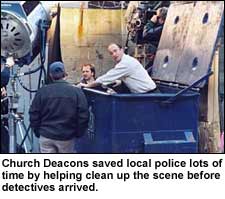 Freehold, Iowa - "Talk about unsaved trash!" Pastor Deacon Fred declared to a giddy congregation trying hard to hold back their laughter on Sunday, "I tell you what! Those, fat, turd-gobbling Wiccans have been warned countless times to steer clear of God's Favorite Church, Landover Baptist. But Jesus was watching over us, and apparently flung those smelly troublemakers into the garbage out back before yelling to that old rascal Lucifer, "Hey Devil! Don't forget to stop by and pick up your trash!"
Landover Baptist Police Officer, Rev. Bill Eichman filed a report earlier this month after he was called to the back of the main sanctuary by head custodian, Tupac Jefferson. "While holding my nose with one hand, I used my free hand to conduct a thorough investigation. In about five minutes I was able to conclude that roughly four overweight, pale and pierced male Wiccan bodies had somehow wandered into the church garbage dumpster and stabbed each other multiple times in their chests," he told Pastor. "It looked like they all tried to hang themselves too - because each of them had a noose around his neck. We never would have been able to put the pieces together if we hadn't had all those dang tattoos all over them to go by. We are still missing two penises and three letters from 'Black Sabbath' on one Satan worshipper's left shoulder."
Church investigators immediately determined that the Wiccans were probably from out of town, and had been sent here to disrupt the construction of this year's Christian Halloween Hell House. It was noted that some wood and paint from the Lake of Fire Dunking Room had found its way underneath the fingernails of two of the victims. "I knew them Wiccans was crazy devil worshippers, but they must be even dumber than them Scientologists we found floating facedown in the lake last July," said Officer Eichman. "To wander into a garbage dumpster and kill themselves like that, just to try to make True Christians™ at Landover Baptist look bad, just shows how devious them folks are. Lucky for us, they went and killed themselves. But you do have to tip your hat to homicidal maniacs who are considerate and tidy enough to commit all their mayhem in a trash container. There's no mess to hose down. Sure beats the heck out of all those Islamic suicide bombers who wind up splattered all over town."
Since no missing persons report had been filed in triplicate, as required, Landover Baptist was able to claim possession of the bodies. Two of them were left in the dumpster and just taken out with the rest of the trash to the incinerator. The largest one, full of piercings, was removed and placed inside the walk-in freezer in Fellowship Cafeteria. It will be used by the Junior High Youth Group's Drama Club as a prop piece in this year's Halloween play. Parts of the other body will be used in various rooms in our Halloween Hell House this year. The rest will be ground up to make sloppy joes for the homeless shelter. "We always like to have something special for the ones who don't piss our mattresses to eat," said Pastor. "Makes a hearty change from Mrs. Jerkin's watery stray cat consommé."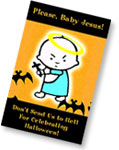 Please Baby Jesus! Don't Send Us to Hell For Celebrating Halloween!
The Official Landover Baptist Halloween Card and many more new Halloween gift ideas in the Landover Baptist Store! CLICK HERE!
---

---
Copyright 1996- ROJC, Landover Baptist Church™. All rights reserved.
Landover Baptist website is not intended to be viewed by anyone unsaved or under 18.