HALLOWEEN RECLAMATION!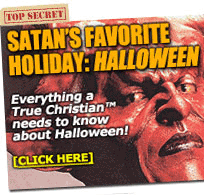 Jesus Orders All Who Love Him to Crash Satan's Birthday Party: HALLOWEEN!
VISIT THE LINKS BELOW:
Our amazing and helpful Halloween links teach you how to protect your Christian family from the coming demonic onslaught of skateboarding Wiccans, Devil Worshippers, abortion sponsoring candy companies and general hellish mayhem that surrounds the most evil day of the year: HALLOWEEN: Satan's Birthday!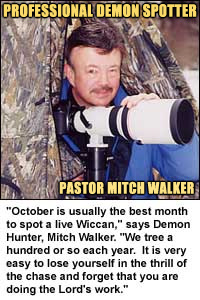 Halloween Tips for Holyweeners: Will children go to Hell for celebrating Halloween? The answer is most certainly, "yes." But you can see your child in Heaven if you read and carefully follow each one of the following 10 Halloween Tips for Holyweeners!

Find Out How Movies Like "Scooby Doo" Are Turning Kids On to the Occult: When Hollywood released the film, "Scooby Doo," Landover was there to help Christians understand the horrifying occult messages hidden in the voice of a talking dog.

Organize a Book Burning: Book burning is a Christian tradition that goes all the way back to the book of Acts. Find out how to organize one of these fun events in your neighborhood as a Christian alternative to Halloween!

HELL HOUSE - Evangelical Haunted Houses! Visit our latest Hell House and enjoy an interactive tour of our online Haunted Baptist Hell House. Read articles about how the Federal Government shuts down True Christian™ Hell Houses - see graphic videos of Landover Baptist Hell Houses and more!

The Scariest Halloween Costume in the Whole Wide World?: Screams of "It's a monster!<" and "Where did my eyeball roll to?" brought worried parents running up from the rumpus room downstairs. But it was too late. The hideous gargoyle was already making its way across the front lawn.

Holy Ghost Halloween Costumes: A popular Christian alternative costume idea. Boo! It's the Holy Ghost! Read about one brave Christian child who dressed up as the Holy Ghost and Scared the Hell out of unsaved trick-or-treaters!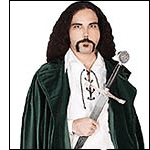 SPOTLIGHT ON WICCA:
A Dangerous New Trend! Ugly, Pale Faced Fat People Who Hate Christians and Use Halloween to Recruit Innocent Children into the Dark Master's (Satan's) Service!
[Learn More @ the Links Below!]
The Malevolent Roots of WICCA! The first fully authorized and definitive chart tracing the sinister and depraved roots of the WICCAN cult.
Turn Halloween Into a Fun Filled Night of Wiccan Hunting!: A fun alternative for your Christian family. Although practitioners of the brand new made up religion, "Wicca," feed off of Christian blood, they also flee in horror at the sight of a Holy Bible!
Pastor Deacon Fred Addresses the WICCAN Community on YouTube: Our Pastor speaks to the Wiccan community and to concerned citizens about the National threat WICCA poses upon innocent children and educated Christian adults.
Regarding Ours and God's ZERO Tolerance for WICCCA If you see anyone engaging in these activities, you have Jesus' permission to fire a warning round of buckshot into the hiney of the nearest gelatinous glob of cellulite sacrilege you see!
Wiccans Found Dead in Church Garbage Dumpster "Talk about unsaved trash!" Pastor Deacon Fred declared to a giddy congregation trying hard to hold back their laughter on Sunday, "I tell you what! Those, fat, turd-gobbling Wiccans have been warned countless times to steer clear of God's Favorite Church, Landover Baptist!
WICCANS Slip Past Church Security and All Hell Breaks Loose!: "You can't tell what sex Wiccans are because they all wear lipstick and earrings and have huge saggy breasts," said Sergeant Huckle. "Once we get the buggers squatted down onto an old fashioned hiney pole, we can usually tell after the screaming stops."
Suffer Not a Witch to Live!: What does God command us to do when we find a witch? Why, put them out of their misery, of course!
Watch a Christian Movie like "The Blair Witch Project": Finally! A Christian Movie the whole family can enjoy. The movie that angered Satan enough to start a new religion called: WICCA!

If Your Child Was Born on 06-06-06 Ladies, keep your legs crossed until after midnight.> A True Christian™ lady always keeps her knees together -- and June 6 was no time to stop! Relive the horror of that fateful day!

Will Jesus Sling Little Children Into Hell For Celebrating Halloween? "You bet He will!" says Pastor Deacon Fred. Read our Pastor's important message about Halloween! Learn how your child can avoid accidentally angering God by accepting candy wrapped prayers to Lucifer!

Learn How Demons Can Possess Farm Chickens: Satan's little calling card was the stench of mutilated chicken coming from the henhouse. When they were finally able to pry open the doors, they found that the chickens had been so filled with demons that...

Some Houses are Haunted by the Holy Ghost: A local Charismatic church in Freehold, Iowa unleashes the blood curdling power of the almighty God and sends it into an old mansion on the edge of town.
More Halloween Links from Landover Baptist and
Mrs. Betty Bowers:
Make Halloween Both Scary and Religious: Bringing Integrity to Christian Homemakers, a ministry of Mrs. Betty Bowers, America's Best Christian, has some wonderful Halloween ideas
Download Free Christian Halloween Masks: Scare the be-Jesus into dirty, sinful, hell bound, unsaved children by wearing a True Christian™ Halloween Mask.
Trick or Tract?: Get ready to combat the forces of darkness on the Devil's Birthday by handing out gospel tracts instead of candy!
Visit the "People Who are Going Straight to Hell Museum": Take an enlightening virtual tour through an assortment of eye-opening rooms that will leave you shocked!
Learn How to Turn Halloween Tragedy Into a Blessing: Read about how our church flew in hundreds of corpses from Turkey's 1999 earthquake for use in our annual Hell House ministry.
Read an Uplifting Halloween Story: Learn how even little kindergartners helped our church win souls by volunteering to depict the horrors of Revelation in the October 2000 Hell House.
Learn About Demon Hunters: Read about how our own, Rev. Mitch Walker, trapped a 3 1/2 inch succubus in a bird cage with nothing more than a bread crumb and a roll of paper towels.