HALLOWEEN RECLAMATION!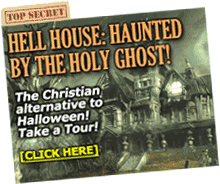 A Historical Tour of Landover Baptist's Halloween Hell Houses
THE AUTHORITATIVE HISTORY OF LANDOVER BAPTIST HELL HOUSES:
The first Hell House ever took place in a two room shack at the end of a dirt road off Interstate 7 near Freehold, Iowa. The admission price was $3 to see President Carter squat down in a make-shift furnace while his buck China-man's teeth were pulled off by a church Deacon dressed up as a demon. Two other robed Deacons angrily jammed pitchforks into his lying liberal hiney while a record of "Stairway to Heaven" played in the background. That was many years ago, but the Halloween ministry was so popular, it still survives till this day..
HELL HOUSE 2010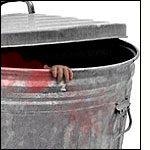 Aborted Human Fetuses Needed to Make Baptist Hell House More Fun Than Ever!
A Landover Baptist is going green this Halloween by recycling aborted human fetuses!The Junior High Youth Group is also working diligently to get 2 tons of human feces and 825 gallons of human urine to the House in time for the October 24th Grand Opening! Read More!>
HELL HOUSE 2009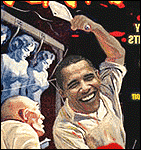 Landover Baptist University for the Saved Opens Halloween Hell Hospital!
A horrifying peek inside one of Obama's government run hospitals is the blood-curdling theme for this year's Halloween Hell House of Terror! Opening in mid-September to sold out crowds! Get your tickets today! See a Graphic Souvenir Map & More!>
HELL HOUSE 2008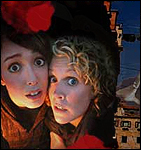 Barack Obama's Ghastly Ghetto of Demoncratic Terror! A series of rooms depicting the horrors of a make-believe world that could exist if by some horrifying accident, Barack Obama were elected President. Baptist students constructed rooms by researching Drudge Report and listening to Rush Limbaugh. Visit Hell House 2008 by Clicking Here!>
HELL HOUSE 2007, 2006 & 2005 (2003 Partial)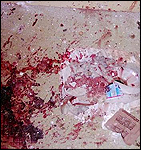 Pending Full Investigation, Department of Health & Human Services Halts Construction on Landover Baptist Hell House Until Further Notice! The Department of Heath & Human Services shut down Jesus for several years due to improper arrangement of biohazardous materials! Read Disclosure!>
HELL HOUSE 2004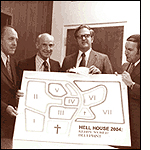 John Kerry's Blood Curdling Agenda For America! Participants will be guided into different areas where they will be exposed to the horrifying reality of what America would be like, if by some hellish miracle, John Kerry were to become President of the United States! Visit Seven terrifying rooms developed by the Landover Baptist Senior High Youth Group. Visit Hell House 2004 by Clicking Here!>
HELL HOUSE 2003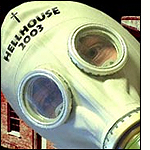 Baptist Haunted Hell House to Feature More Than Just the Dumpster Full of Rotting Fetuses Real guns, real bullets, real blood, real body parts, real fetuses, and if possible – biological weapons and reasonably priced military grade rocket launchers for this year's Hell House. Now all we need is the Federal Government to sneak in here and ruin a fun Halloween for everyone! Visit 2003 Hell House!>
HELL HOUSE 1999-2002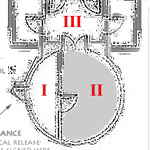 Church of Mary Queen of Heaven Haunted Catholic Church and Interactive Online Hell House Our 77th annual (public) Hell House. This year, folks are expected to arrive from all 50 states. They will wait for hours in line to visit 12 horrific rooms in a Haunted Cathedral that once served as a demonic house of worship for Catholics in the latter part of this century! Interactive Hell House!>
Landover to the Rescue! Turning a Halloween Tragedy Into a a Godly Blessing: Read about how our church flew in hundreds of corpses from Turkey's 1999 earthquake for use in our annual Hell House ministry.