Church Struggles With Tithing Categories in Light of American Express "Black Card"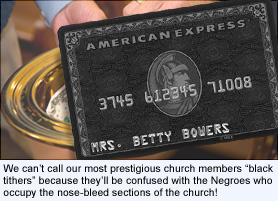 Freehold, Iowa - THE NEW YEAR started at Landover Baptist Church with yet another monthly meeting of the Board of Deacons dominated by the controversy that has plagued and deeply divided the church (or, at least, its most devout members) for nearly all of last year: whether to alter elite tithing levels in light of the introduction of a higher-than-platinum credit card.
Mrs. Helen Floribunda, the church's oldest platinum level tither, explained the position of the church's upper crust (after receiving written permission from her husband to address the board): "I don't know why there is any controversy at all. Everyone says the dividing line between platinum and black tithers would be arbitrary. I say we should divide the categories by digits of income, as established by financial statements rather than tax returns, of course. My husband and I have earned eight digits for over 30 years. Yet, the current platinum tithing level, I have been told, includes not only seven-digit earners but even high six-digit earners. Why should we be lumped together with those of such modest means? Eight should be black, seven should be platinum, six (above $500,000) should be gold and the lower sixes should be silver (if those people must be allowed in the church at all). What is so complicated about that?"
Anthony Watkins, a gold level tither whose family lives in the modest Hosea Homes subdivision of Freehold, disagreed. "Our family pays more of our income to the church than these platinum folks. In fact, almost half our income goes to Landover Baptist Church, whereas I know platinum tithers who pay less than 10 percent of their earnings to the church. Why should we be deemed second class parishioners when our love of the church is obviously so much greater?
Mrs. Betty Bowers, America's Best Christian and Landover's most ingenious tither, quickly dismissed such sour grapes. "Mr. Watkins is comparing apples to forbidden fruit. We are all equal in the eyes of God, but not in the eyes of a CPA. Mr. Watkins is merely a person; I am a limited liability corporation. And just last week, the Board of Deacons agreed to extend the 2003 tithe-cuts granted to the richest 10% of the flock. It is a well-known fact that when the church takes in less money from rich Christians, it actually takes in more money! Don't ask me to explain how this happens; it's a miracle! When the losses of my offshore investments and end-of-year purchases of foreign real estate are netted out, I actually lost money in fiscal 2010. So the church technically owes me money this year. As such, if I give even a dollar, it is equivalent of penny-pinching Mr. Watkins forking over $100,000. And yet he whines about how rich I seem! That smacks of socialism. And socialism is just bad manners. I don't think I should be penalized for having crafty Jewish accountants. And I'm certainly not going to support cheap, unimaginative tithers pushing for a 'progressive tithing' scheme. Last time I looked, we weren't living in Sweden. Far too many Mexicans for that!"
Pastor Deacon Fred quickly took control of the meeting. "There isn't an issue on the table to change the tithing rate, folks. It's gonna remain 17.5 percent for everyone until it is inevitably increased by the board next year. The various deductions, exemptions and tithing loopholes are also gonna remain intact. The issue is simply whether we should change the status of tithers, in particular, whether we should create a black tithing class and, if so, what we should name the class to ensure it isn't mistaken for a dang welfare program for deadbeat fathers and baby-proliferating mothers."
Board chair, Brother Harry Hardwick, urged his colleagues to adopt a change. "I realize there will be some logistical difficulties. I certainly don't relish being classified the same as people who make as little as the Floribundas, but we must understand that tithing levels come with certain benefits, some of which are already spread thin. For instance, platinum tithers will receive advance warning of the apocalypse, so they can pack and occupy the choice seats of the observatory. Church seating, placement in church programs, priority on Pastor's prayer list and advance theater and church ticket sales are all based on tithing class. With the surge in church applications following the terrifying election of the Obama boy, platinum status has frankly become too common. Our VICs [Very Important Christians] need to be distinguished with a new class. I am sick of having to arrive at the stadium an hour early to make sure I get seats on the 50-yard-line before Landover University football games so that I can beat Henry Block and his enormous clan to the punch. Since Henry is my accountant, I know what he makes and he has no business wrestling seats from me."
Helen Floribunda summed up the feelings of Landover's richest tithers by emphatically declaring: "No one is going to call me a 'black' anything! Not unless they want meet the end of my Remington!"