---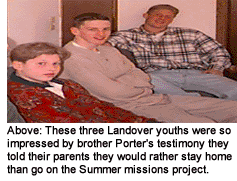 FREEHOLD, IA - In what was billed as a "fundraising speech" Sunday evening, Mr. Wayne Porter admitted to a shocked congregation that he had been playing a "cat and mouse" game with God since he was saved at the age of two. "When I was a young person, I believed that Jesus was calling me to be a missionary," he said. "But the He never opened the door for me." Mr. Porter explained that each time it would seem like God was opening a door to to the mission field, He would turn around and open a window that would make it seem like He wanted the family to take their annual beach vacation. "God was opening and closing so many windows and doors in my life that I just decided that if He wasn't going to make it clear, I would just follow the Porter's Iowa family tradition and become a Christian oil magnate. I would always keep my heart open, and be willing to do anything else if God would open a door to it."

Landover members were reminded of the story of Mrs. Watkins in St. Luke's Assisted-Living High-Rise. "She never got her calling straight either," said Pastor Porter. "She'd sit up there in the penthouse suite reading the Bible all day, just begging God to make things clear. When she plummeted to her death, she must not have been thinking on her toes. God closed a door, but opened a window unexpectedly."

Stunned parishioners listened for over 15 minutes as Mr. Porter revealed that his life was nothing more than a 72-year effort to figure out what windows and doors God was opening and closing. "I once thought God was calling me to be a lineman in Wichita. I actually got in my car and drove halfway to Kansas before I realized that it was 1997 and fiber lines had done away with any need for linemen for the last 15 years."

Mr. Porter told everyone that he had thought God had finally opened a door for him last week. "My 72-year struggle to see what windows and doors Jesus was poking his head through in my life was finally at an end," he said. "God had opened a door for me to travel to another country. One called, "California." I would be there on business, but would have the first opportunity in my life to meet and speak with people who were unsaved." Mr. Porter then related that he was so excited about the missionary trip that his head must have been in the clouds. "Two days ago, I was helping my wife shut a window in the old servants' quarters on our ranch when I turned my head for a second and the weight of the Holy Spirit came crashing down, slamming the 200-pound plate glass window onto my hands and snipping off everything but my two thumbs!"

The congregation gasped as Mr. Porter raised two blood-soaked bandaged stumps above his head. "So you see! God is calling me to stay right here in Freehold Iowa! He doesn't want me travel out of this beautiful Christian community!" he yelled. "Jesus took away my hands to show me His perfect love for me. Now I wake up every morning praising Him, and praise Him all day long, right up till I climb into bed at night. I'm not gonna let up in praising the Lord, because I still have my feet, and I don't want Him to take them away, too. Praise God."

After Mr. Porter's message, over 200 members of the congregation came forward that night to re-dedicate their lives to Christ. And, glory to God, two young people came forward to tell Pastor that they were going to cut off their hands and cancel their summer mission trip to bear witness to Mr. Porter's powerful personal testimony.

---

---
Copyright 1998-2007, Americhrist Ltd. All rights reserved. Terms of Service
The Landover Baptist website is not intended to be viewed by anyone under 18