Meet The Loving and Caring Staff of the Landover Baptist Church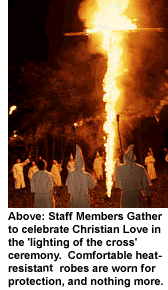 Welcome to the Landover Baptist Church Staff Area. Here you will be introduced to a treasure trove of Godly Fundamentalist Baptist Elite that make our church run like a well oiled spiritual machine. We proudly boast the greatest church staff in all of Christendom. Boasting in the Lord is no crime, so we make available to the unsaved public, impressive photographs and brief biographies of all leading staff members at Landover Baptist Church.
Each staff member has more experience and expertise than any secular specialist in the same field. We believe that Landover Baptist has everything the secular world has to offer, only it's better, because it's Christian. We pray that as you browse each staff member's page, you take note of their Godly appearances, and spiritual accomplishments. They are qualified Fundamentalist role models, that demand your respect and admiration.
Use the menu on your left to enter an area of interest. Once you are there, you will be presented with a staff list that fits your choice. If you are saved, you have our permission to click on particular names, view photographs, and read individual biographies. What an absolute joy it is to have you here with us, on this, the Lord's own special day! We pray that you are uplifted and encouraged as you explore the Godly lives America's Christian Elite! If you are unsaved, we ask that you accept Jesus Christ as your Lord and Personal Savior, and get yourself into a Bible Believing Church. We ask that you conform to God's standards: renounce homosexuality, renounce liberalism, renounce the Catholic Church, renounce this Devil Run World, and continue on with your everyday life, knowing that you are eternally secure. If you decide that Religion is not for you, than we pray that you suffer a quick end and a speedy journey to Hell. Glory!