---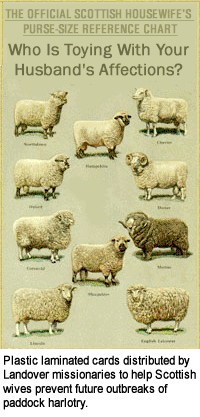 The Lord Reaches Into His Bag Of Tricks And Pulls Out An Old Standby – Pestilence – To Save Christian Marriages Throughout Scotland.
(Edinburgh) After tearful good-byes to sheep incinerated as a result of the recent foot-and-mouth epidemic, farmers throughout the Scottish Highlands began sodomizing their once-neglected wives again. Women who had all but given up on ever feeling the connubial touch of their spouses responded with relief after decades of neglect. As an elated Gladys McHaggis of Inverness told the missionaries from America's wealthiest church, Landover Baptist, "I said to my Ewan, 'It's either me or ewe.' But all the ultimatums in the world wouldn't get him to drop his kilt and come down from that bloody paddock. That cheap little tart – strutting about the pasture like a sheep half her age. Talk about mutton dressed as lamb! Truly, it was the Lord who took pity on my broken heart and killed that little four-legged harlot. But, in truth, He was just a week ahead of me. It's not so easy getting your hands on a gun in these parts. Not like Republicans in your America. When we enjoy a round of shots, we mean whiskey."
Landover Baptist missionaries immediately responded to the Lord's widespread smiting of cattle throughout the United Kingdom with relief. As Mrs. McNamara told the BBC: "When the Lord gets it into His head to do a lot of killing, I always get a little nervous to see how it all pans out. I was very relieved to watch how He chose to handle this shocking bestiality epidemic in Scotland. After all, He only killed those cheap little seductresses who wouldn't have led anyone astray if they had been made car-seat covers a long time ago. As all Christians know, the Almighty usually leaves the animal sacrifices to us, as He likes to be the one to kill people. There are thousands of randy farmers in Scotland who should be very relieved that the lamb died for their sins."
After giving husbands a few days to reacclimatize themselves to pummeling moist openings on a real mattress for a change, the Baptist missionaries set about warning the couples not to get too carried away. "We told them not to push their luck," said Mr. McNamara. "Even if a ewe is an unrepentant slut, you can still get a nice cable-knit sweater out of her. But with a debauched women, you're left with nothing but the memory of someone God is rightly torturing in Hell."
Mrs. McLoudplaid, living near Ben Nevis, was less sanguine than many wives about the Lord's repatriation of her husband. "While I am happy to have my love back for supper," she confessed, "the years of separation have taken a toll on his chivalry and gift giving. It's not like it was when we first married. As a Christian, I'm not one to complain, but I much preferred getting Belgium chocolate to this business of his popping corn-meal in my mouth after we make love." Another wife complained, "I know all the men in town are going through a difficult adjustment, but it is annoying for my husband to hold on to my hair for dear life while he is riding me like a bronco around the living room. Wigs are very dear and I have gone through three in the last two weeks." Thousands of wives also remarked that it makes them feel uncomfortable when their husbands ask them to put on wool slacks and sweaters as a precondition to intercourse.

---

---
Copyright 1998-2007, Americhrist Ltd. All rights reserved. Terms of Service
The Landover Baptist website is not intended to be viewed by anyone under 18