---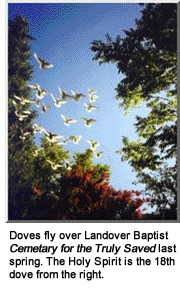 Before a joyous crowd of approximately 650 Christian families, Orville "Red" Benson was stoned to death at the Freehold Prison for the Criminally Unsaved on Saturday. With just 10 minutes left before the time of execution, Iowa governor (and Landover Baptist deacon) Thomas Vilsack had received a telephone call from a sobbing Mr. Benson, making mealy-mouthed pleas for clemency. "I haven't killed many people," said Mr. Vilsack, "so I got on the other line and called George W. Bush for pointers. Well, he started doing his Karla Faye Tucker imitation and we got to laughing so hard, the next thing I know, 40 minutes had gone by and when I took Benson off of hold, he was already dead."

At a press conference in Des Moines, following a dinner celebrating Mr. Benson's seven-minute demise under several feet of blunt anthracite, Governor Vilsack stated: "I don't care that this vicious killer thought he was just shooting any old dove. The fact remains that he shot our Lord – well, at least a Third of Him – when he blew the head off the Holy Spirit with a blast of buckshot. We can't let folks go around killing every prong of the Trinity. Do you realize how many Christians were called upon to slaughter Jews throughout history because they killed our Lord Jesus? And they just nailed that part of the Trinity to a cross! This guy blew the Lord's little feathered head off into on-coming traffic. You don't rise again after three days when you've been flattened by a Peterbilt truck, my friend."

Mr. Benson was convicted of violating Section 31.965 of the Freehold County Penal Code. That section prohibits the hunting of dove within five miles of the Landover Baptist Church perimeter on Sundays or Wednesdays. Section 31.965 was implemented over 120 years ago in response to Landover members' fear for the safety of the Holy Spirit, who enjoys spending Holy Days at Landover Baptist Church, anointing those below as He flies over the beautifully landscaped campus.

According to Mr. Benson's widow, Trixie, the Holy Spirit had been swooping down on their daughter, Bridget, while she was playing in her inflatable pool in the back yard. "Bridget was just splashing about and that mean little dove kept flying right into her face," recalled a chemically-subdued Mrs. Benson. "I don't know why, but that dove kept trying to peck Bridget's left eye out! I was watching from the kitchen window. Bridget screamed, jumped out of the pool and that dove chased her right through the cornfield to the road. I yelled after her to find a phone booth to hide in like that woman Tippi Hedren in 'The Birds.' But it was too late. That dove went right for her pupil. That's when Red shot him. I know it's protected by the law, but it was attacking our baby!"

Pastor Deacon Fred was unmoved by Mrs. Benson's story. "I have no idea what that little demon girl had done to provoke the Holy Spirit, but it is not ours to question why the Lord turns on certain people," he told reporters while dusting gravel off his black suit after the stoning. "It could have been as simple as Him knowing that she peed in that little pool of hers. You just never know what will rub the Lord the wrong way. And, as anyone who reads the Good Book will tell you, the Almighty kills folks at the drop of a hat."

At trial, Benson, a newcomer to the community, claimed that he was unaware of the ordinance when he used his rifle to protect his daughter. "I just thought it was a rabid dove," he testified. "I don't reckon I had no reason to think it was God. I mean, if it had been God, I assumed He'd get out of the way of the shot, since God can do anything." The foreman said that the jury of saved Christian men had unanimously found Benson's comments unpersuasive. "No one in the Holy Trinity has shown much skill in winning against humans, much less avoiding assassination attempts," he noted. "God couldn't even beat Jacob in wrestling. And Jesus got Himself caught, convicted, nailed to a cross and stabbed with a spear. There is no reason to believe the Holy Spirit would be able to avoid well-aimed buckshot."

---

---
Copyright 1998-2007, Americhrist Ltd. All rights reserved. Terms of Service
The Landover Baptist website is not intended to be viewed by anyone under 18