LANDOVER BAPTIST CHRISTIAN BUSINESS DEVELOPMENT:
$2.5 Billion In Christian Funds Secured To Develop, "Salvation City."
---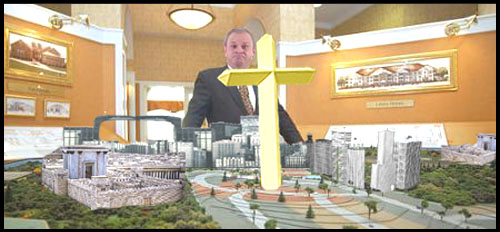 Freehold, Iowa - Pastor Deacon Fred stands in front of a scale model of Landover Baptist Development Corp.'s newly announced Saved City July 1, 2002 in Freehold, Iowa.
Saved City is a 221,135-acre retirement community designed around the 76-story "Crucifix Tower" Christian office building. Construction has already begun on Saved City's own Christian outlet mall, 3 18-hole PGA-certified golf courses, 4 new chapels with stadium seating and luxury skyboxes, the first Christian NASCAR racetrack, private jet airport, 4 luxury hotels, 2 hospitals (one for residents and another for their help), Town Hall, two Christian movie theaters, a creation science museum, and possibly a small secular library operated out of a kiosk near the new Olympic-size baptism pool.
The retirement condos, which run from $780,000 to $7.2 million will feature private access to the 520-foot marble "Stairway to Heaven," which will allow property owners to begin their ascent to Glory once they pass retinal scanners to assure that they are saved home-owners.
(AP Photo/R. David Duncan III)
Landover Members Click Here NOW! To Reserve a Luxury Christian Condo!

---

---
Copyright 1998-2007, Americhrist Ltd. All rights reserved. Terms of Service
The Landover Baptist website is not intended to be viewed by anyone under 18