---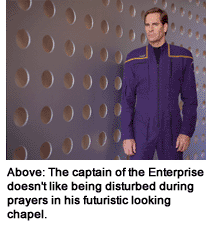 True Christian® sources in Hollywood tell us that the world is in for a wonderful surprise when the new Star Trek series, Enterprise, launches in late September. Scott Bakula, the popular host of PBS's creation science series, Quantum Leap, commands the helm of Star Trek's Enterprise as a Christian Captain! And the best part of it all is that he's not just a Captain who happens to be a Christian - he's a Christian who happens to be a Captain!

This is the first time that die-hard fans of the show (they call themselves 'tekkies') will be exposed to the gospel of Jesus Christ and sound Biblical-teaching. "Our choice to pull a homosexual captain from the show and replace him with a Christian captain was not a last minute decision," said one source. "There are a lot of writers on the show who just happen to be Bible-believing Christians, and apparently they are going to use the new series as an evangelism tool for as long as they can get away with it." Landover Baptist's Christian mole in Hollywood says that most of the early story lines are going to revolve around Scott's faith in Jesus Christ. "He has a powerful hunger to share his superiority with other species," the mole reported. "They are even thinking of showing most of America as a deeply religious country at the time period in which the show takes place. The producers are toying with using black and white film to show America as a Christian nation, as was the original Andy Griffith show, on which the 'Christian nation' concept is based."

Insiders say that churchgoers should expect the new series (at least the first two seasons) to be much like an intensive one-year Sunday school lesson. "They are going to explore the idea of bringing the gospel of Jesus Christ to alien races," said another source. "In fact, in the third episode, a Vulcan gets saved, but his entire family, even the little Vulcan babies, are shot by the Christian Captain because they refuse to accept Jesus Christ as their personal savior." Members of the Christian community are very excited about the show, not only because the Captain of the ship is going to be a born-again, soaked in the blood of Christ, Christian, but also because the writers are focused on using the Holy Bible as a background for the entire series. "It's exciting," said Landover Baptist Pastor, Deacon Fred. "I encourage Christians to tune in! In several episodes if you look closely, you can see Jesus flying outside the spaceship's windows."

"This show is not as much about exploration as it is about conquest," said one very reliable True Christian® source. "Scott is playing the metaphorical role of God of the Holy Bible, and anyone who has read the Bible knows that God does not take any prisoners. In the Bible, God either kills or tortures people who don't believe in Him or at least humor him with a little attention. Scott is the same way. Earth is the only planet Scott knows or God cares about. According to the Bible, it is the land of milk and honey. That being said, the Lord (Scott) will have the luxury as a follower of God to kill all women, children and creatures who aren't from Earth. As a Christian, he will give anyone, or God forbid, "thingn" a second chance to accept Jesus as their personal savior - but this is before the world of Star Trek had mechanical translators - so Scott isn't going to understand any of the Satanic alien gibberish they are saying - and will most likely end up killing every alien he sees - to take over their planet. It's just like the Israelites who relied on the Lord's power to kill everyone who lived in towns they wanted and God ordered them to invade."





---

---
Copyright 1998-2007, Americhrist Ltd. All rights reserved. Terms of Service
The Landover Baptist website is not intended to be viewed by anyone under 18