---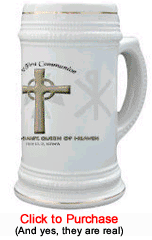 These First Communion Steins were found in the dungeons of the Church of Mary, Queen of Heaven in Freehold, Iowa. Through a Federal Court order, Landover Baptist acquired the Catholic (Pagan) property last summer. After months of smashing idols, removing Jesus from Crucifixes, burning skirts and collars, rearranging the Stations of the Cross, digging up aborted fetuses from the convent playground, destroying over 300 gallons of liquor, burning the pornography found in confessional booths and priest's quarters, we were able to salvage few items of interest.

If you would like to purchase a piece of Catholic history, we are allowing you to do so through this website. At this time, we make available these one of a kind blasphemous First Communion Steins to the general public. All of the money generated from sales will go toward the purchase of a much needed imported Italian stained glass window in the main sanctuary of the Landover Baptist Church.

The steins are on sale for $18.99 and you may click here to purchase through an SSL secure server.






---

---
Copyright 1998-2007, Americhrist Ltd. All rights reserved. Terms of Service
The Landover Baptist website is not intended to be viewed by anyone under 18