---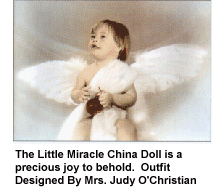 At 2am August 15th, Dr. Edwards made the official announcement. "Landover Baptist Church has been blessed with a Miracle Child. A little China doll born of white parents."
Thousands of Church members wait in line just to get a glimpse of Landover Baptist Church's newest little member, The Miracle Child. Parishioners stand in the hot sun for hours, hoping to see the tiny China boy for a single minute. Those lucky enough to see the blessing sent from God rush out with tears in their eyes, proclaiming a miracle. The amazing gift from Heaven is waited on hand and foot 24 hours a day. His loving parents have been elevated to Gold Membership Status, and given a luxurious new home in Landover's prestigious, gated Christian estates community, "Mansions of Glory." In a private letter addressed to all 125,000 church members, Pastor Smith commented, "The Bentman family is to be spared no expense. They have been members here for 62 years, if they ask for something, give it to them. God chose these people to bring this amazing little China boy into our lives, they carried a miracle, as their brothers and sisters in the Lord, we must repay them for this blessing in any way we can."
Church doctor, Jonathan Edwards and other experts who examined the child, found that he had no fingerprints or eyebrows. At first, Dr. Edwards only observed that there could be some indication that the boy was Chinese. Upon further examination however, the child was found to have bow legs and eyes that were set apart from his nose at an unusual distance. The eyes were also squinted and angled in a peculiar fashion. Taffy Davenport Gaines Crockett, who witnessed the miracle birth, told the parents that they were lucky the child could see at all. She heard that some Chinese are born with slits for eyes so small, they could be blindfolded with dental floss.
"Not since Elizabeth gave birth to John the Baptist, have we seen such a miracle," Pastor Smith affirmed. "Though we know that Chinese folks are naturally Communist-- but typically very intelligent, and their sloped heads deter any ability to communicate efficiently, you can rest assured that we will bring this little exception to the rule up in 1611 King James Bible tradition." A teary eyed Pastor Deacon Fred added, "I will have you know that if a hair on this child's head were to be harmed, or if he were left unattended for any amount of time, those responsible would be punished to the fullest extent of Levitical Law."
The child's mother, Macel Bentman, age 62, is resting quietly in her new home. Her husband Vern and a team of 30 Baptist nurses and doctors are currently working around the clock, taking in visitors and caring for the Miracle Child in a temperature controlled 1,000 square foot center built to meet every possible need the boy could have.
Truly, Landover Baptist is blessed by being God's authority on Earth.
---
All Rights Reserved. Copyright 1999 C.Harper & Americhrist Ltd.