---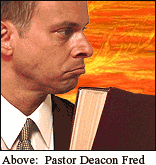 As many of you already realize, modern Christianity has fallen victim to the global sissification of the Gospel. The Devil has been spending the last 2,000 years either touching up or completely destroying old photographs of Jesus with the intention of making His existence debatable. Satan has done this by using an elite army of cave-dwelling, semi-visible demons I believe are called, Dingle Berries. Demon hunter, Mitch Walker has actually had the uncomfortable experience of removing one of these tiny creatures from the rectum of a possessed New Orleans cocktail waitress who died during the procedure. So we know they are there.

Friends, people look at us and laugh. Did you know that? They actually find Fundamentalist Baptists humorous. They think we are old-fashioned, and that we make up stories about Hell to scare people. It is very upsetting to have someone laugh in your face when you are trying to explain to them that if they don't return Christ's love and accept Him as their personal savior that they are going to be tortured and have all of the flesh burnt off their body every day for all of eternity in a literal lake of fire. So upsetting in fact, that when witnessing to an unsaved Lutheran the other day, I responded to his laughter by saying, "I can't wait to see you burn in Hell!" He was taken aback, and quite shocked. I used this opportunity to witness even more. I said, "You won't be laughing when you see demons using your testicles as ping-pong balls." I lit into him about how Lutherans are spitting in the face of Christ by baptizing babies who don't even know how to say their momma's name. I told him that I was never going to share the gospel with him again. "I have been sharing the gospel with you for nearly 15 years," I said. "There are others out there who don't even get to hear it 1,000 times." Then I explained to him that I would be the one laughing at him when he was burning in Hell. "I can't wait to see the look of surprise on your face as Jesus drop-kicks you off the cliff of glory into the lake of fire!" I exclaimed.

After leaving the conversation, it dawned on me that I was actually expressing the way I really felt. Even before Lutherans and all other unsaved trash wind up roasting in Hell, God has promised colorful violence and torture for them, come Judgment Day. God will use fire, plagues and beasts to kill them, and what did he say good Christians like us will do in the meantime? We "shall rejoice over them, and make merry, and shall send gifts to one another" (Revelation 11:10). Well, I don't think Jesus will mind me getting a head start on the celebration. Since I am filled with the Holy Spirit and Jesus lives inside of my left ventricle, I was actually expressing the way He felt to that Hellbound Lutheran! Praise God!

I began to think about the crucifixion, and wondered if folks were laughing at Jesus while he hung up there on the cross, committing suicide for their salvation. I'm sure they were laughing. One of them was even so angry, he stabbed him. The Bible tells us that Jewish folks spit on Him. Friends, it is time for us to realize that Jesus died, was buried and then rose up from the dead. He didn't rise like a drugged up Haitian zombie! No! He rose up in glory! There weren't no voodoo-hoodoo goin' on when Jesus crawled out of his grave! --- now, where was I? --- ah, yes, FALSE CHRISTIANS! You have fallen victim to the global sissification of the Gospel and try to keep the facts about Hell a secret! Well, it's no secret to this congregation! There is a Hell, and it is a hot place, and everyone who never heard of Jesus, or anyone who has and laughed, will be going there. That's more than a kettle full of mockers. That's everyone who was ever born on the face of this planet, with the possible exception of me and you.

You can do what Jesus says, and turn the other cheek. I do it. I turn the other cheek, let the person slap me and then light into him like a prize-figher. I ain't up on no cross, folks. I'm down here in it! I will not take it when someone laughs at my beliefs. The Lord already took it for me. If I can't get a punch in, I make sure they hear the words, "I can't wait to see you burn in Hell." Let those words ring in their ears until the day they die. And when they are being sodomized by 12-foot demons on the desolate bone-riddled beaches of the lake of fire, might they then look up and see Jesus, and a little man they once met, standing by His side, trying to hold back my laughter.


---
Copyright 1998-2007, Americhrist Ltd. All rights reserved. Terms of Service
The Landover Baptist website is not intended to be viewed by anyone under 18