Speed Racer: Homos, Whores & Hallucinogens
TRUE CHRISTIAN™ MOVIE REVIEW BY BROTHER HARRY HARDWICK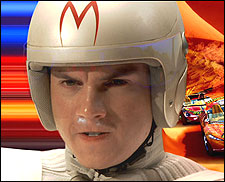 The '60s was Satan's decade, giving us the scourges of marijuana, LSD, women's lib, long hair on fellows who weren't saviors, the pill and people whose mamas should have been on the pill -- like that troublemaker, Martin Luther King, Jr. The dish of the day was immorality -- with a side order of disrespect. Free love was the mantra, as bedroom antics featured men with women, men with men, women with women, and priests with baby boomers. "Fun," of the secular variety, was the word of the times, as young people contaminated their minds with booze, pills, profane anti-war chanting, smack -- everything but the Holy Bible." It was only by the grace of God that fire and brimstone didn't fall upon the nation. Of course, given the attire, hair and hygiene of the time, Jesus was probably wary of returning when He wouldn't stand out in a crowd.
Perhaps the worst legacy of the period was an animated pornographic series called "Speed Racer." For those of you who don't know, a "Speed Racer" is a combination of cocaine and black mollies, crushed and snorted through a straw. Users act like Robin Williams after a few sips of espresso at Starbuck's. They become easily aroused and sexually promiscuous. All of the cartoon's characters were hopped up on this devilish drug. They spoke so rapidly that the sound track frequently moved faster than their lips. Half the time, you couldn't see their lips moving at all. Their bodies moved so fast, we often didn't see them travel from one spot to the other. One second, their arms and legs would be in one place. The next second, they'd be in an entirely different place.
The FCC eventually banned the cartoon for its immorality. But with our President's approval ratings hanging lower than the devil's scrotum, and militant feminist Communists running Congress, Hollywood has brazenly decided to convert this trash into a film, this time, with real people playing the drug-abusing, sex-addicted drawings. But since the characters are written by typical Hollywood writers, the live characters have still managed to remain cartoons. As in the TV series, the main character, named after the vicious drug, is a stereotypical, pretty boy Nellie in search of constant sexual thrills. Homosexual Emile Hirsch, who seemed right at home portraying a disgusting transvestite who dressed as his own mother in "The Mudge Boy," was the perfect choice. His sexual appetite knows no bounds, including even his sister, an anorexic (or is it, heroin addicted?) tramp, aptly named "Trick-sey." With Nicole Ritchie perpetually facing jail time, the producers wisely selected the sexually confused lollipop-head Christina Ricci for Speed's incestuous love interest. The movie even hints that Speed is involved with his pre-pubescent brother, "Straddle." The brother has a pet monkey, and the two of them often sneak into the trunk of Speed's car and . . . well, let's leave it at that, but you know what they say about monkeys and a ripe banana.
The most disgusting part of this film occurs in the second half, when it becomes clear that Speed longs to be "topped" (and I don't mean in the race) by his chief rival, Racer-X, convincingly played by Matthew Fox. Not surprisingly, Racer-X is named after the drug known to enhance the libido more than any other. Racer-X is tall, broad-shouldered and muscular, and he has such an enormous package that it looks like it would bring down a Fed-Ex plane. It is shapely and . . . well, I digress. Speed is clearly infatuated with Racer-X, and while the movie doesn't show their shaved behinds, it is clear they subjugate themselves to sensational slippery sodomic sex-capades in the lubricant-rich grease pits conveniently placed beside the race tracks whenever they get a chance! I hate to provide spoilers, but after reading the above, would it surprise you to learn that Racer-X turns out to be Speed's brother? Watching this movie is like watching a day in the life of a Little Rock trailer park, right before a much-needed tornado hits. What a shame God hasn't shown the same contempt for Warner Bros. that He has shown recently for Arkansas.



---

---
Text Copyright 2008, Americhrist Ltd. All rights reserved. Terms of Service
The Landover Baptist Church website is not intended to be viewed by anyone under 18