Vision of Virgin Mother Mary Seen at Baptist Church and Asked to "Kindly Leave!"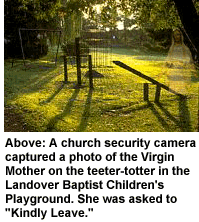 A vision of the Virgin Mary was spotted on the teeter-totter at the Landover Baptist Children's Playground over the CHRISTmas holidays. She held the youngsters spellbound for nearly an hour before pre-school teacher, Mrs. John Swindle got hold of her.
"I don't know what she thought she was doing." Mrs. Swindle reported. "Sitting there, distracting the children from their studies. I couldn't pull them away." Mrs. Swindle said that Mary bobbed up and down on the teeter totter in a misty haze, just "smiling as if she were doin' nobody no wrong," and as if "she had not a care in the world." Swindle noted that children were at the windows, staring off at the playground, drooling, eyes glazed over in a trance like state.
"Mrs. Swindle did the right thing." Pastor remarked. "She asked The Vision of the Blessed Mother to 'kindly leave.'"
"I said, 'shoo!' and brushed her off like a horsefly." Mrs. Swindle recalled. "I said, 'Mary! I must ask you at this time to kindly leave! We are Baptists, and will not be distracted from our Lord Jesus. We are not impressed with your ability to show up unexpectedly and create confusion! Satan is the author of confusion. Now KINDLY LEAVE!' And with that.." Mrs. Swindle related, "she was gone."
Pastor Deacon Fred recounted the incident during Sunday morning services. "We don't need Mary, or any Saints popping up around here. We've got enough unsaved nuts slumming outside the gates of this Godly church. Disgusting homeless folks.. looking for handouts! I don't believe these beauty-tifical visions are real anyway. If the Virgin Mother came down right now, and stood before me, and asked me to light a candle and kiss her stinky feet, I'd tell her, 'I don't believe you are the virgin mother, but a demon sent from Hell to confuse and distract this Godly body of Baptists from the Lord Jesus! Now, shoo! demon!"

---

---
Copyright 1998-2007, Americhrist Ltd. All rights reserved. Terms of Service
The Landover Baptist website is not intended to be viewed by anyone under 18