---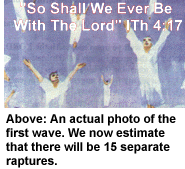 There is no reason to be disappointed if you were left behind after the rapture this past New Year's Eve. We believe that God had a reason for allowing 99% of all Christians in the world to remain behind. That reason is to carry on the Christian message, and to bring that message to all people, especially to Americans because virtually no one in America has ever even heard of the Gospel. We believe that the Lord wants us to prepare a kingdom here on Earth. A kingdom that will make him proud when he comes back in another 1,000 years to reign over the quick and the dead! Praise be to God! We are also making preparations for a second rapture that could possibly occur in three years. Christians must not be discouraged, and have to allow for the notion that God could possibly be working in shifts. Heaven itself might not have the capacity at this time to hold as many Christians as we have here on Earth, so we believe that he is working with a long list of folks that will just have to wait their turn. Expect a series of 15 raptures stretched out over a 100 year time frame. That is our best Godly estimate, and we believe we speak for all Baptists everywhere when we say that he might be saving 'the best for last,' (It is accepted by intelligent Christians everywhere that Baptists are the prophesied "Elite" foretold in scripture because we follow the word of God most accurately.
No members of Landover Baptist were taken up during the first rapture a few weeks ago. We are not dismayed. Although we had "So Long Sinners!" written on the soles of our shoes, we still consider it an honor to remain behind. God picked the strongest Christians to remain behind after the rapture. He took the weaklings with Him to Glory to help prepare the table, set the dishes, and cook the food for the hard working Christians who will be arriving shortly. There were scattered reports of people just floating off into the sky, leaving their clothes behind. Although we know this happened, we can't confirm it, it is by faith that we believe it to be true. We don't condone nudity, and the Lord could have used a little more tact and left folks flying away in their underwear, but that was up to Him, and we don't question it. Most of the folks who were raptured were working with naked colored folks to begin with, so it probably came as no shock to the poor little negroes as they stared wide eyed into the sky watching their superiors float off toward the moon.
So it is business as usual here at the Landover Baptist campus, and at millions of other churches around the globe. We suck in our guts, tuck in our shirts, put on our ties, crack our Bibles, and continue on in our faith. We do not tire of waiting for the Lord. He has supplied us with all the amenities we need to survive in this troubled world. Real persecution continues to happen. Christian children are being laughed at for wearing Christian T-shirts, Evolution continues to be taught in our schools, Homosexual marriage is being peddled by Satan as 'normal,' tires are being slashed on cars that have Christian bumper stickers, and Christian warriors are still being given dirty looks Sunday mornings at Denny's. So no, the persecution has not ended. It is has only just begun.

---

---
Copyright 1998-2007, Americhrist Ltd. All rights reserved. Terms of Service
The Landover Baptist website is not intended to be viewed by anyone under 18