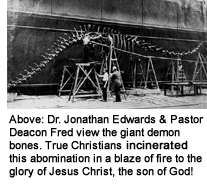 MOUNT CANYON IA - While hiking earlier this week, Landover Baptist Cub Scout Troop 183 stumbled upon the partially buried remains of what troop leader Harold Miller called, "a humongous demon." Late Saturday afternoon on the old limestone trail, Cub Scout, Timmy Walker, tripped over a five-foot row of perfectly preserved teeth and broke his leg. The troop backtracked after they discovered Timmy was missing. When they arrived at the scene, Mr. Miller and the boys scrambled to set Timmy's shin using one of the demon's teeth as a splint. "We then called Dr. Edwards on my digital phone to tell him we found demon bones, and about Timmy," said Mr. Miller. "He noted that 'even the bones of a demon could attack' and advised us to keep some distance." Within twenty minutes, Dr. Edwards arrived on the scene with two helicopters full of creation scientists.
The excavation took only three days. "We just wanted to hack the demon to pieces when we got there," said Dr. Edwards. "But we thought it was important to get a good look at it before we destroyed it." The fully intact skeleton of a 147-foot demon with a tail the size of a locomotive was eventually pulled out of the soft limestone and airlifted back to the church campus.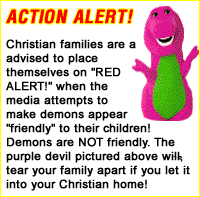 "This here is the skeleton of a 100% pure-blooded demon," Pastor Deacon Fred told the crowd gathered in Memorial Park. "Jesus' Daddy kicked a bunch of these fellers out of Heaven about 10,000 years ago, then killed them in the flood 'cause they was a humpin' Jewish ladies and makin' 'halflings.' Take a good look at this creature, folks. Anyone who doesn't believe in Jesus is going end up in Hell where they will be eaten and digested by giant living demons like this one every single day, forever and ever and ever."
After all 172 pastors, 412 deacons, and 18 gold tithers had a chance to have their picture taken with their head inside the demon's mouth, the remains of the evil creature were doused with gasoline and burned until there was nothing left but ashes.

---

---
Copyright 1998-2007, Americhrist Ltd. All rights reserved. Terms of Service
The Landover Baptist website is not intended to be viewed by anyone under 18

>