Madonna Weds, Jesus Not Invited!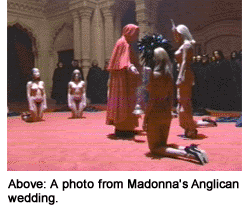 Jerry Falwell has wisely predicted the anti-Christ will be a Jew. After all, the race that killed Jesus will undoubtedly be the race that produces the man who will take the majority of the world to Hell. But there is another figure described in the Great Book of Revelation who has walked among mortals for decades (not to mention, slept with thousands of them). You can call her "Material Girl" or "Vogue Queen," but her real title remains the same – The Great Whore of Babylon.
Louisa Marie Ciccone signaled the start of the End Times when she changed her name to "Madonna," the title of the mortal God chose at random to serve as the incubator for Christ. The madonna is the god of the Catholic cult, which builds giant statues of her in place of Christ. Catholics claim to see the madonna in the walls of their homes every time there is a thunderstorm. Is it any wonder Satan's contemporary leading lady would adopt the name of this symbol of blasphemous idolatry?
Madonna is guilty of every sin of Sodom. She practices indiscriminate sex with men, women and undoubtedly animals. She has countless illegitimate children, only two of whom the media has discovered. She has made scores of pornographic videos and, worst of all, she has carried on several interracial affairs, some of which she has flaunted in her videos for our impressionable children to see. But it is her latest act of debauchery which simply cannot be countenanced by True Christians®. It's bad enough that she has condemned her children and their descendants to an eternity in flames by birthing them out of wedlock (Deuteronomy 23:2). But now, Madonna has become an adulterer for life by getting married, even though she was married once before (Matthew 5:32).
The secular (read: Satanic) media touted the event as the wedding of the year. After all, Madonna has a huge following despite being a "singer" who can barely carry a tune. It mattered not to the media that her fans consist almost exclusively of homosexuals and latch-key young girls whose mothers have chosen a man's work over wifely duties. The media simply saw the opportunity to promote yet another deviant act: an aging pop icon marrying the much younger man who just happens to be the father of one of her known children.
According to our inside source at Skibo's Castle, a five-star gambling casino, discotheque, and Anglican church in Scotland, the wedding was a veritable Who's Who among the demon-possessed. Devil-worshipers who call themselves "Scientologists," like homosexual Tom Cruise and his wife-of-convenience-and-reputation, Nicole Kidman, ogled the bride and groom. So did Heavy Metal musician, Sting, whose records, played backward, consistently glorify Lucifer. The crowd even included Donatella Versace, sister of late homosexual Giovanni Versace, known for having sex with Elton John (thereby disproving the myth that homosexuals have taste). And, of course, Sandra Burnhardt and Rosie O'Donnell, the bleach blondes' former lesbian lovers, were in the wedding party (whether as bridesmaids or groomsmen we know not). Madonna and her adulterer-to-be, Guy Ritchie, were surrounded by the world's most famous demons as they said their "I do's".
As the bride (who was nothing "Like A Virgin") descended the grand staircase in a Stella Mcartney gown, dripping with diamonds, the crowd was said to have been awe-struck. We may never know whether it was her see-through black sheath dress (meant for a woman half her age) or the matching gown of her four- year-old daughter, Lourdes (the JonBenet of the 21st century), that brought the crowd to their bare feet. Yes, bare feet. The Wiccan/Catholic/Muslim/Anglican religion that Madonna and Ritchie practice demanded that those in attendance be barefooted and minus their unmentionables! Perhaps it was Ritchie's Scottish mini-skirt without underwear that brought the crowd of homosexuals and busty actresses to rise for the occasion. In any event, there was something for every deviant walk of life at this "gala affair."
During the candlelit ceremony, ritual chants common in Wiccan marriages were heard outside by those waiting to pay a £75 cover charge to party with the newlyweds. The group joined in chanting "MUNUS SICSIGGA AG BARA YE INNIN AGGISH XASHXUR GISHNU URMA. SHAZIGA BARA YE ZIGASHUBBA NA AGSISHAMAZIGA NAMZA. YE INNEN DURRE ESH AKKI UGU AGBA ANDAGUB!" which translated in Christian English means, "Kill The Baby, Kill Him Now. Let The Blood And Do It Now".
This is one marriage that certainly won't last. After all, even a wimp like Ritchie won't be able to stand idly by as Madonna inevitably resumes her lesbian encounters, probably with Ellen Degenerates, Sharon Stone or both. The real losers in this debacle are, of course, the children. While they are already condemned as bastards, their mortal lives certainly shouldn't be a living Hell as well. The Ladies of Landover are therefore sponsoring a special love offering entitled, "The Lourdes and Rocco Memorial Fund." The money raised will be used to launch legal challenges to custody of the children by these unfit parents. Make your love offering by April 1, 2001 and you will receive a backdated form for use in declaring the donation as an
exemption for the 2000 tax year..

---

---
Copyright 1998-2007, Americhrist Ltd. All rights reserved. Terms of Service
The Landover Baptist website is not intended to be viewed by anyone under 18

>