---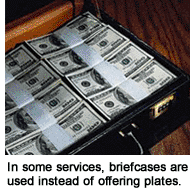 This information is provided solely to members of
Landover Baptist Church pursuant to clause 8(D)(iii) of the Landover Baptist Secured Tithing Contract. All adjustments made through the Direct-Withdrawal Tithing ® program are noted. If you are not a member of Landover Baptist Church, you are unauthorized to view this page, your ISP number will be traced and you will be served with a lawsuit for invasion of privacy within 30 days of viewing this page.



Pre-Audit Attendance For Last Week
Projections
Discrepancy Adjustment
Sunday School Attendance (293)
151,219
151,319*
18 families fined $250 each for truant children

Sunday 8:30AM Services (10)
083,846*
083,847*

Mrs. Pritchard died on Saturday

Sunday 10:00AM Services (14)
165,172*
162,666*

Overflow due to allowing unsaved to stand in the back for $75 as a revenue-generating test

Sunday 11:30AM Services (1)
002,302*
Invitation Only
Sunday Platinum Tithe Reception Services

Sunday 6:30 PM Service (24)
74,477*
074,477*
Perfect attendance
Sunday Pay-Per-View
1,950,000


2,327,945*
Thank you Heather Hardwick for appearing on the Crouch's Show again to push subscriptions

Wednesday Night Service (22)
099,733

099,736*
7 families have been fined $150

Wednesday Pay-Per-View
1,245,329

821,535*
Shout Glory!
New Satelite Members
121,007

095,666*
Those unsaved telemarketers may be going to Hell, but they'd know how to sell a sin to Satan!


New Prison Members
0
0015,500

Before folks get all alarmed, this is just an "accounting entry" done for tax purposes only
Youth Group Tithes
21,817
21,812*
The Hawkins brothers and sister, Becky, spent the last two months in jail.
Recorded Witnessing for Christ by the Congregation
Pre-Audit Numbers
-
Door Step Visits
000,002
-
Christian Mall Center
8,074,228*
-
Prison Visits
000,001
Mrs. Pritchard, who is now dead, visited his unsaved son

Visits to the Poor

1,238

The Ladies of Landover visited with all the residents of Canaan Condominiums to discuss "Glorifying the Lord through Better Decorating."
Deacon Visitation
24 hour video monitoring
$12,450 in fines. You know who you are. Names will be published in the vestibule.
Judgment against former church member, Dora Denkins
236,500
ON APPEAL
Tithe/Donation Records
Tithing Contract Quotas
Adjustments made by Direct-Withdrawal ® Tithing Plan

Platinum Tithes
SEALED
SEALED
Gold Tithes
NOT AVAILABLE AT THIS TIME
NOT AVAILABLE AT THIS TIME
Silver Tithes
(+)$342,327,780*
(+)$123,544*
Bronze Tithes
(+)$186,263,955*
(+)$73,221*
Tin Level Tithes
(+)$41,076,477*
(+)$07,454*
New Member Fees
(+)$4,060,120*
-
Application Fees
(+)$2,010,900*
-
Misc. Income
(+)$200,925,000*
-
Ladies Foundation
(+)$1,120,000*
-
Mens Lodge
(+)$3,120,000*
--
Youth Paris Retreat
(+)$259,002*
--
Anti-Catholic Foundation
(+)$930,000*
-
Homosexual Reparative
(+)$1,627,344*
-
Lost Lamb Shelter
(+)$002,000*
-
Lottie Moon Love Offering
(+)$000,150*
-
Kindred Retirement
(+)$001,230*
-
Creation Science Museum
(+)$4,627,000*
-
Overseas Missionary Relief Fund
(+)$000,050*
-
Gospel Tract Ministry
$2,899,210
-
Pastor's Expense Report
$17.5 Million (est.)
-
What Would Jesus Do? Thong Sales
(+)$1,314,000*
INCLUDES TWO MONTHS OF TAX FREE INTERNET SALES
Expense Report available only to members in Platinum
Circle with full voting rights. Records also Secured by IRS.
*These figures based on median of reported collections
from November 2002- December 2002 in the year of our Lord.
()=#of services or classes

---

---
Copyright 1998-2007, Americhrist Ltd. All rights reserved. Terms of Service
The Landover Baptist website is not intended to be viewed by anyone under 18