---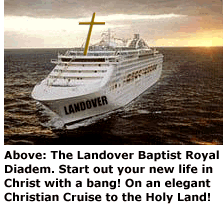 For a small donation of *$5,000 per couple, you are welcome aboard this year's complimentary free cruise for new Christians. We expect over 2,500 of our new converts (babes in Christ) to join us aboard the Landover Baptist Royal Diadem for a Mediterranean tour of the Holy Land this summer. Young believers aged 64-92 are in for the time of their new life in Christ! Praise the Lord and pass the suntan lotion! Denying yourself and sacrificing everything you have for Jesus has never been more delightful! Get ready to have FUN! Captain Jesus and our qualified, saved crew will introduce you to your new religion and you won't ever want it to stop! Praise God!

Imagine drinking in the exotic sights and sounds of Jesus' old stomping grounds. Indulging in world class shopping at every port! You will discover a treasure trove, a bounty of the world's most desirable merchandise. Tickle your Baptist taste buds with some of the Holy Land's secret mouth watering recipes. Best of all, it's 100% free! Your $5000 donation doesn't have a thing to do with the cruise! The only items your free pass does not include are those of a personal nature, such as shore excursions, beverages, photographs, gratuities, medical services, meals, room and board, drool buckets, deck activities, entertainment, etc... you won't have to spend a dime of the Lord's money on this cruise! Relax in Christian luxury for 7 days and 8 nights. Watch comfortably aboard as our Pastor-Captain-Chaplin describes historical Bible sights from a safe distance. A trip beyond your wildest Christian imagination.

Float on the very waters where Jesus' disciples anchored their fishing boats. Christian magician, Richardo Frezno, will even perform his famous "Walk on Water" illusion - at the VERY spot where we believe Christ, Himself, walked on water nearly 2000 years ago. Enjoy Christian entertainment from the Gaither Vocal Band, and the Landover Baptist Orchestra. Hear preaching from Landover Baptist Pastors, morning, noon and night! All at no charge! Bible teaching, worship and praise services are held every day!

If you can't get enough of Jesus, this cruise is for you! It is designed with the new convert in mind. Don't get left behind! Ring in your new life in Christ Jesus with all the style and extravagance it deserves! Praise the Lord! and Anchors Away!

* $15,000.00 Tithers will enjoy the earthly reward of a private balcony. Cruise benefits also include beach tours in the S.S. Chosen (Liberian registry). All voyagers need not worry about being accosted by foreign people of false faiths -- or having to eat their unpleasant food -- because everything on our ship is guaranteed 100% American!"

For more information on Christian Cruises, please visit: christiancruises.com. Praise Sweet Jesus in Heaven!

---

---
Copyright 1998-2007, Americhrist Ltd. All rights reserved. Terms of Service
The Landover Baptist website is not intended to be viewed by anyone under 18