900 Pound Pastor Preaches From Bed
---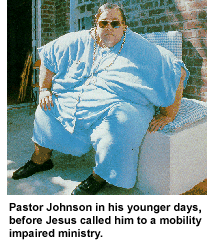 FREEHOLD, IOWA - When Pastor Horace "The Bull" Johnson received his Landover Baptist Lifetime Achievement Award last week, he delivered his acceptance speech using a bullhorn from his bed, which had been hoisted 200 feet above his house by an industrial construction crane through a hole that had to be blasted through his roof in order to get his 900 pound glorified body out where everyone could see it. The ceremony took 27 construction workers, 14 doctors, 3 lawyers, and 6-months of prayer and preparation. It drew nearly two thousand church members last Saturday who gathered around outside his remote home to pay homage to one of the greatest preachers Landover Baptist Church has ever known.

Pastor Walker received the award for providing 25 years of Christian Service from his bed. He delivers a sermon every Sunday and sings songs to the 100 loyal members of his congregation who crowd into his bedroom to hear him preach.

"Pastor Walker is a dear friend," said Brother Harry Hardwick at the award ceremony. "He knows a sinner and is not afraid to point his finger right in that person's face and tell him that his life is a mess!" Pastor Deacon Fred noted, "This Godly man is the ultimate living manifestation of the True American Christian lifestyle. He'll never budge. He doesn't care a lick about himself. All he cares about is what other folks are up to. He can spot a hypocrite a mile away."

Ceremony attendees were driven to tears when Brother Harry revealed that Walker's genuine concern for his parishioners was manifest in his decision to have his daughters cover him with a humble old carpet before each service so that the female members of his small bedroom congregation would not succumb to lust at the naked torso of a sweet Christian pastor who could not find a shirt big enough to fit him.





---

---
Copyright 1998-2007, Americhrist Ltd. All rights reserved. Terms of Service
The Landover Baptist website is not intended to be viewed by anyone under 18