Pastor's Gun Misfires During Sermon
---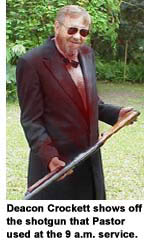 FREEHOLD, IA – At a standing-room-only service yesterday morning, an earsplitting shotgun blast caused an 18-foot glass-covered oil painting of the Lord Jesus to break free of its moorings. The 300-pound painting, which was suspended 40 feet over the altar, quivered for a moment – and then dropped like a guillotine, ricocheting off the marble choir lectern, smashing into the 18-karat gold communion table and completely soaking the first six rows of parishoners in the wet blood of Jesus.

This horrific chain of events was set in motion when Pastor Deacon Fred miscalculated his aim while trying to shoot the wig off a $3,200 effigy of Senator Tom Daschle. Within seconds, while the congregation scrambled to return fire, Pastor Deacon Fred reloaded and blasted a perfectly aimed round into the Senator's head. Horror turned to rejoicing as church members, many dripping in 1972 Bordeaux wine, applauded the pastor with an impromptu standing ovation.

"You folks in the front row look like you got dunked in the blood of Jesus!" Pastor Deacon Fred yelled as he skipped back toward the pulpit. "Glory! That's what I get for letting a Catholic restore this old beauty," he said, raising the shotgun above his head. Pastor concluded his political sermon a few minutes later and announced that services would be cut short and communion would be held later that day. Addressing the first few center rows of the sanctuary, Pastor noted, "You folks have already had your communion it seems, just lick your lips if you're single or give your honey a peck on the cheek if you're married, and I'm certain that you'll lap up a little of the Lord's blood in doing so."

There were no injures reported from the incident, except for a piece of glass that grazed the scalp of Sister Marla Jenkins' newborn child. "The poor little fella hasn't accepted Jesus Christ as his Lord and Savior yet," said Sister Jenkins. "If he were to have gotten a bucket load of Jesus' blood down his throat and drowned himself, my poor little baby would have gone straight to Hell!" Pastor comforted her by advising the first words her child must learn to speak shouldn't be "Mama or Dada" but rather "Jesus, I'm sorry I'm a sinner. I accept you as My Lord and Personal Savior." "Better safe than sorry," said Pastor, as he reloaded for the 11 o'clock service.





---

---
Copyright 1998-2007, Americhrist Ltd. All rights reserved. Terms of Service
The Landover Baptist website is not intended to be viewed by anyone under 18