---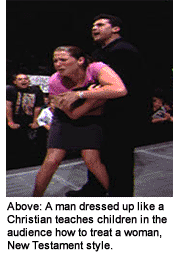 In an unprecedented move to broaden the appeal of arena-style Wrestling to Bible-believing Christians, World Wrestling Federation (WWF) founder, Vince McMahon, more than likely turned to Scripture to gather ideas. Landover Baptist Pastor, Deacon Fred (who studies the media extensively,) is convinced that McMahon is using the Holy Bible as a guide. "We are overjoyed to see that the WWF is moving away from 'entertainment' and embracing a 'teaching methodology' when it comes to the treatment of women," he said. Christian leaders are ecstatic about Landover's new findings. "We applaud the WWF for creating an environment where the audience is exposed to Biblical principals concerning the treatment of women, and are especially pleased that young seven-year-old boys with impressionable minds are being exposed to this at such an early age" said one official. "It's almost as good as church."

Once thought to be a "hotbed of latent homosexuality," the WWF, under guidance from (as near as we can tell, born-again) Vince MacMahon, began changing its tainted image nearly a year ago. A recent show near President Bush's house in Washington D.C. demonstrated to Bible believers everywhere that the WWF is very serious about teaching Godly basics when it comes to the role of women. In that show, a young lady was brought on stage and told to bark like a dog. She was threatened by a man's raised fist if she refused to submit and obey his every command. She willingly followed each order as the audience applauded. A video monitor revealed her being "mopped" with mud and kicked to remind her of what happens to women who do not listen to man's authority. "I was praising Jesus when I saw the clip of this event," said Pastor Deacon Fred. "Never before has Bible-teaching about women been so readily accessible to a mainstream audience, and to think that young children all over the world were watching as well! It made me weep tears of joy. I could see 1 Timothy 2:11-14 happening right before my eyes!" "Let the woman learn in silence with all subjection. But I suffer not a woman to teach, nor to usurp authority over the man, but to be in silence. For Adam was first formed, then Eve. And Adam was not deceived, but the woman being deceived was in the transgression."

Some experts argue that the WWF's main audience already consisted of a majority of church-going Americans and it was only a matter of time before the role of women would be addressed in a Biblical manner. "I think the change is more recent," said Pastor Deacon Fred. "The Lord is moving in the heart of Vince McMahon. Vince is highlighting the Bible-teaching on women as the most important part of each big event." Research indicates that many young people attend matches just for the Bible-role-of-women-teaching portion. "This is exciting because it has such an enormous effect on little children who are watching," said Pastor. "It gives us hope that the next generation of young people will come into power, grounded in Bible truth. Praise God!"

Baptist Ministers around the country are already replacing their "Role of Women" sermons with half-hour wrestling videos of scantily clad females being kicked, yelled-at and mopped into submission.

---

---
Copyright 1998-2007, Americhrist Ltd. All rights reserved. Terms of Service
The Landover Baptist website is not intended to be viewed by anyone under 18