On March 27, 2002, Landover Baptist Church ran the following full page ad in the secular New York Times and Boston Globe

---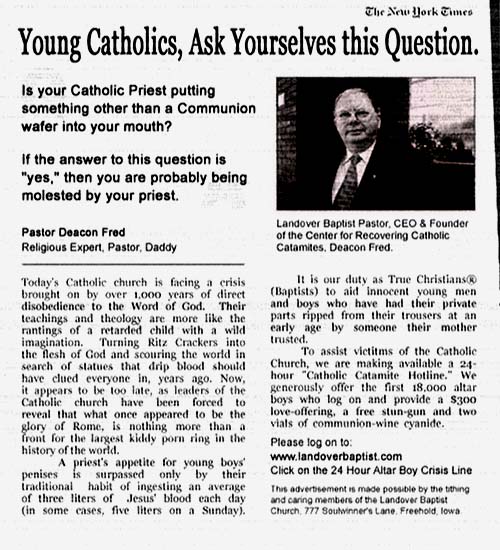 Within an hour of those newspapers leaving their respective presses, millions of Mary-Worshipers logged onto our church's website to avail themselves of our "Catholic Catamite Hotline" and qualify for free stun-guns and vials of communion-wine cyanide we were generously offering to the first 18,000 altar boys who logged on and provided a love-offering.
Regrettably, the response from Catholics desperate for the sanity of a Protestant church that doesn't handle reptiles or roll in the aisles gurgling nonsense was so great, it knocked our server off-line.
We regret any inconvenience to our saved Baptist friends who normally come to our church's Website to hear the Word of God.

---

---
Copyright 1998-2007, Americhrist Ltd. All rights reserved. Terms of Service
The Landover Baptist website is not intended to be viewed by anyone under 18