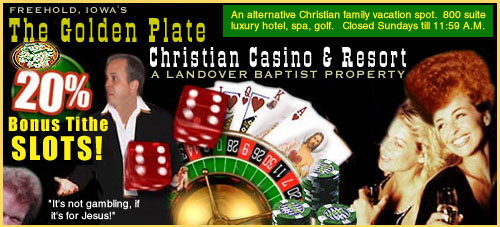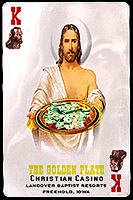 It's Not Gambling If It's For Jesus!
FREEHOLD, IOWA - The grand opening of Landover Baptist's $27 million Christian Casino & Resort, "The Golden Plate," drew in thousands of religious high rollers last Saturday night. Christian leaders who love the thrill of gaming were treated to hours of entertainment and relaxation as they increased their weekly tithe up to 25, 50, and in some cases even 100%. After an uplifting and luxurious church service in the Golden Plate's plush chapel the next Sunday morning, platinum tithers were pampered like the Lord's own angels with a seven course brunch, a poolside concert by the Landover Baptist String Quartet, mud baths, massages, and a personal invitation to the Pastor's table at dinner. Then it was back to the casino to tithe away their Saturday winnings after Sunday night's 11 P.M. church service.
"This whole thing is just a great opportunity for vacationing Christians to give a little bit back to Jesus and have a whole heck of a lot of fun doing it," laughs Pastor Deacon Fred, the religious genius behind the concept. "What unsaved people don't understand, and we get some flack for their ignorance," explains Pastor Deacon Fred, "is that when a True Christian® person or True Christian® establishment wins money on horse races, King Solomon Style® - casino gambling, or sports betting, the Lord doesn't look at it as "true gambling." It's not gambling if the winnings go to a church owned business or to a Baptist person. At The Golden Plate Christian Casino and Resort in Freehold Iowa, it's always Jesus who wins! He doesn't place a limit on how much a person can tithe and quite frankly, if a Christian sitting at one of our tables is willing to tithe away their entire life savings, we're not going to stop them."
Secular casino owners are already getting nervous that the Golden Plate is going to start a nationwide trend. "They don't have to have any gambling licenses," explains one secular casino executive, "since they are a non-profit organization, all of the money is tax free, wins and loses. It's f---(non-Christian word)ing genius!"
"Nobody loses at The Golden Plate Casino," remarks Pastor Deacon Fred. "Even Mrs. Ida Jenkins who just tithed away her entire life savings last Wednesday night at the blackjack table didn't really lose. Jesus has her money now and if that old woman prays hard enough, Lord willing, she'll be off the streets and back behind one of our Christian slot machines in no time at all. If Jesus decides to give her some of her tithe money back, that's His decision. We don't control the roll of the dice, or the spin of the wheel. It's all set to the Lord's will. We leave it up to Jesus! Praise!
The casino is already attracting some high stakes tithers, or as Mr. Daniel Crockett, head of tither development, calls them, 'Whales.' "These 'Whales,' explains Crockett, come from old Christian money. They like to tithe at their own private tables, and we have special suites and perks to help get them here, and stay here." One such 'Whale,' heir to the publishing magnate behind 'Christianity Today,' dropped $50,000 in under five-minutes during three hands of baccarat. "Well," said Pastor Deacon Fred, "that bet went right into the offering plate and we flew him off to Alaska in a private jet for a day of fly fishing." Daniel Carver notes, "That's what you call a 'perk.' He was back at the Lord's tables the next day throwing tithe money around like Jesus was going to send him to Hell if he left with a dime.
The Golden Plate Resort has been 15 years in the making, and was built through investments by wealthy evangelicals like Rev. Pat Robertson, who already owns his own race horse. The 800 Suite Resort Hotel is now open 24-hours a day and boasts a staff of 2,500 full time employees. Affordability is not a problem at the resort. There are rooms for Christian families of any income level. Reservations are already booked well into next year, and there are major Christian recording artists scheduled to perform nearly every weekend at the casino's "New King Solomon Theatre."


---

---
Copyright 1998-2007, Americhrist Ltd. All rights reserved. Terms of Service
The Landover Baptist website is not intended to be viewed by anyone under 18