Veggie Tales Releases Product in Poor Taste
---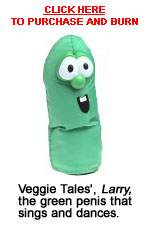 FREEHOLD, IOWA - "Veggie Tales is not Christian!" yelled Pastor Deacon Fred as he burst into the Landover Baptist Baby Jesus Day Care Center last Friday afternoon. He was followed by four deacons who kicked veggie toys out from the hands of youngsters and smashed them to pieces. "Now gather up what's left of that trash and BURN IT!" Deacon Crenshaw told the children. Throughout the day, the deacons visited upon other day care centers around the church campus until all traces of veggie toys were eliminated from church property. Then it was off to the homes of church members with children to finish the Lord's business by ridding the community of filth.

Since it's inception, Veggie Tales has been getting rich by lining their pockets with Christian money. Recently however, their true intentions were revealed. With the release of "Larry, The Singing and Dancing Cucumber" toy just a few weeks ago, it's become quite clear that the Veggie Tales Corporation is involved in a more sinister agenda. Either that, or they just hired an army of priests and homosexuals to head their product development team. Christian experts believe that, like Mr. Potato Head, this could be yet another attempt by liberals to force their evil "tolerance" into True Christian homes. Larry the Dancing Cucumber could be even more dangerous than Mr. Potato Head since it comes with a "choking hazard" clearly printed on the outside of the box. "The choking hazard is a direct acknowledgement that the Veggie Tales Corporation believes that a child will be naturally inclined to place the toy into his or her mouth," said Pastor Deacon Fred. "It's unbelievable that a so-called Christian company would stoop to this level of depravity."

"We don't want to state the obvious here," said Pastor Deacon Fred at a recent press conference. "To put it simply, we're concerned that a battery operated cucumber is being marketed to young children. We just think it's in poor taste for a Christian organization to put such a product on the shelf." In reviews of the product, the secular media jokes, "adults enjoy the toy even more than their children." Landover Baptist Church issued a public statement during their press conference urging other Christians around the country to stop purchasing Veggie Tales products until the company that manufactures the toy issues a formal apology to loyal Christian consumers.

Creation Scientists at Landover Baptist have opened up a formal investigation into the Veggie Tales Corporation. "It's not just the dancing green penis that we are concerned about," said Dr. Jonathan Edwards, "The Veggie Tales corporation is watering down scripture and promoting a lack of respect for the sanctity of God's Holy Word by producing videos where a talking head of lettuce with a New York accent skips through uncomfortable Bible passages in order to make a story more appealing to children." Pastor Deacon Fred explained, "Now, we're all for getting kids saved and indoctrinated, but some Christian psychologists tell me that the children who watch these videos believe that when they arrive at the Pearly Gates, they'll be greeted by a talking tip of asparagus who will usher them into an eternity run by a giant tomato and a thousand pieces of flying celery. . . and then there's that dancing cucumber. If they made that vegetable the devil, we might not be as concerned.





---

---
Copyright 1998-2007, Americhrist Ltd. All rights reserved. Terms of Service
The Landover Baptist website is not intended to be viewed by anyone under 18