Spiderman: The Vile Glorification of Arachnid Bestiality!
Pastor Deacon Fred Reviews Spiderman 3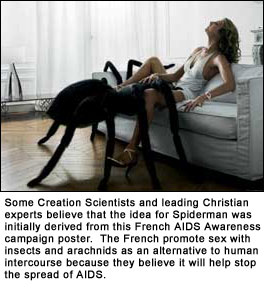 About a week ago, I was able to attend a "sin-screening" of the new Spiderman nonsense. You see, Hollywood sets up screenings in big cities for important pastors like me so we can let them know if their latest movie is a load of unsuitable anti-Christian rubbish. Anyone who knows me will tell you that I'm never one to pass up a chance to smack around the good news of Jesus, especially if someone flies me out in a private plane, sets me up in a fancy hotel and pays for my dinner.

Warner Brothers has their own private theater in New York. I was seated next to my dear friends, Rev. Fred Phelps and Dr. Jerry Falwell. Now that I look back, I'm glad that Benny Hinn was in front of me, his giant head of hair saved me from seeing several sweaty scenes of arachnid bestiality.

One doesn't need a degree in Entomology to figure out what the sex perverts in tinsel town are trying to accomplish with this film. To put it simply, so the unsaved can understand: Spiderman is promoting the glorification of woman on arachnid intercourse. They use the same perverted temptation that has been used for hundreds of years through the fairy tale false promise of the princess and the frog. I tell you, we proudly stand today with our Godly ancestors by steadfastly condemning the deceitful trickery of the Prince of Darkness and every fairy tale ever scrawled by that satyr's scalding hoofs! I want every young Christian lady across this country to know that if they lean down to kiss a spider, it will not turn into Toby McGuire as the movie, Spiderman 3 would have you believe!. No, my sweet, innocent young ladies, it will not! Flee this temptation at all costs, for it could not only lead to some nasty stings, it could also lead you down the path of immorality to France where you will get caught up in sexual Entomology which leads to damnation.

One other thing I found interesting in this film. Hollywood really shows its racist flag by trying to appeal to colored girls. You see, they present Spiderman in a black costume and have him exhibit behavior that that is appealing and familiar to women of color. They have no shame in moving back and forth between the American costume and the Negro costume. My guess is that the Entomologist who took enough LSD to come up with this whole shebang wanted to make sure he was being inclusive, but quite frankly in my opinion, it comes off as racist.

In any case, this movie is banned from being shown within a 25 square mile radius of Freehold, Iowa. In addition, all church families with daughters between the age 11-21 are asked to call Pastor Jim's Holy Smoke Pest Control and have their basements and daughters' bedrooms sprayed for spiders.



---
Copyright 1998-2007, Americhrist Ltd. All rights reserved. Terms of Service
The Landover Baptist website is not intended to be viewed by anyone under 18