---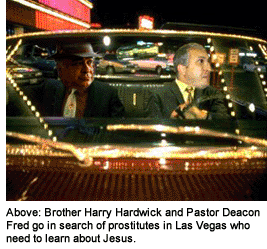 Church members who didn't show up for Wednesday's all-night imprecatory prayer vigil came up a day late and a dollar short. You missed out on a Holy Ghost-inspired spontaneous midnight ministry trip to Las Vegas, Nevada on Pastor Deacon Fred's private jet. Sources close to church officials say that around 9 p.m., Brother Harry Hardwick was overcome with a burden for "gamblers and prostitutes." In the middle of an unspoken prayer, he got up and shouted, "God wants us to go CRUISIN' FOR JESUS!"

20 minutes later, 50 pastors and deacons were 2,000 miles above Kansas, getting "dollied" up for a night on the town in the name of Jesus. The four-hour trip was filled with praise and worship, as Rev. Wilkins led the eager pastors in 200 refrains of "99 Bottles of Oil On My Head," while they changed into their zoot-suit disguises and poured on the cologne.

"When we touch down in Las Vegas," said Brother Harry, "I want you to remember that when you lay a chip on the pass line at a Craps table, you shout, 'Roll me the seven-seals!' no matter who's shootin'!" Pastor Deacon Fred rallied the group further by saying, "When you get into your convertibles and start cruisin' the streets for harlots in need, you shout, 'Hey sugar! I know what you need! I'm gonna give you somethin' you'll never forget! I got some sweet Jesus in my hip-pocket!'"

The next day the group landed at Freehold Airport, disheveled and spent from the 24-hour marathon of all night soul-winning. "We seriously thought they were raptured," said Mrs. Pastor Deacon Fred. "What else is a Christian woman to think when 50 men of God disappear in the middle of the night?" Brother Harry Hardwick consoled his crying wife by saying, "I'm home pumpkin. . . I'm home. But Jesus is calling Deacon Fred and I back to Vegas next week."

Unanimous votes at the monthly meeting of the Board of Deacons confirmed "Cruisin' For Jesus" as a Biblically-inspired official ministry. At this time, the waiting list for the Cruisin' for Jesus Ministries is so huge that it can only accommodate male Platinum Wing Tithers and their pastoral chaperones. If you are on the list, please stop by the Narthex to pick up the brochure. It contains details on acclimating yourself to secular clothing styles, mandatory car-rental types, acceptable colognes and perfumes, shows and events where Jesus would want you to go, dens of ill repute that welcome soul-winners, and hotels that have not yet had Bibles placed by Gideons.

---

---
Copyright 1998-2007, Americhrist Ltd. All rights reserved. Terms of Service
The Landover Baptist website is not intended to be viewed by anyone under 18