Operation Rescue Agrees to Expel Al Qaeda Trainees
---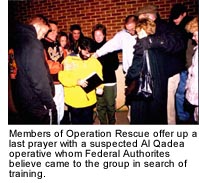 Operation Rescue, the Godly organization recognizing that abortion is moral only when God wishes to punish parents (2 Kings 15:16; Hosea 9:16, 13:16) has agreed to expel all Middle East terrorists enrolled at its abortion protest training centers nationwide. The settlement agreement with the Justice Department was reached over dessert last night during Attorney General John Ashcroft's fundraising dinner with Rev. Philip Benham, Operation Rescue's national director. After collecting the $500,000 raised for God's Own Party, Ashcroft reluctantly informed Benham that the training of Osama bin Laden's henchmen must come to an end. The federal government learned last Thursday that hundreds of al Qaeda operatives have been attending secret courses in bomb-making, breaking and entering and the targeting of physicians at Operation Rescue centers throughout the Midwest. The revelation occurred when a janitor discovered a 1999 memo on the floor near FBI Director, Robert Mueller's inbox from an Arizona agent outlining the infiltration.

"While the Bush Administration recognizes the valuable work performed by Operation Rescue in silencing and/or terminating baby killers, we cannot risk the Committee's techniques being used against American fathers serving our nation abroad," noted Bush press secretary, Ari Fleischer, at a hastily convened press conference. "Bombing a barracks or killing a medic is a far cry from harassing abortionists." According to Fleischer, the White House has concluded that Clinton-era policies are responsible for the Arab infiltration of the group, though Administration officials have declined to offer specifics until some evidence supporting their conclusion is discovered.

Operation Rescue spokesman, Wade Hanger, acknowledged the settlement agreement but adamantly defended the organization's previous decision to allow Muslim extremists to attend the covert seminars. "Every single non-Hispanic brown attendee was required to pledge orally that the information he received would be used solely in the fight against baby killers and their doctors and nurses. Shortly after September 11th, all Arab attendees with pilot's licenses promised to alter their flight plans by substituting U.S. landmarks with Planned Parenthood Centers. While we understand the government's fear, we firmly believe that the overwhelming need to stop the genocide of babies in the womb justifies the risk that a few wayward pupils will use our techniques against the public at large. That is especially true since the likely targets of the heathens' attacks would be large cities where baby killing is most widespread.

One of the al Qaeda students taken into custody last week vehemently denied that he and his colleagues were studying techniques of coercion and violence at the centers. Mohammed aba ka Debrah claimed that the al Qaeda attendees were instead studying Operation Rescue's public relations strategies for making intimidation, bombing and targeted executions politically palatable while simultaneously deflecting responsibility for such events.





---

---
Copyright 1998-2007, Americhrist Ltd. All rights reserved. Terms of Service
The Landover Baptist website is not intended to be viewed by anyone under 18