CHRISTIAN ROCK EXPOSED:
Are Christian Rock Stars Too Sexy For The Lord?
---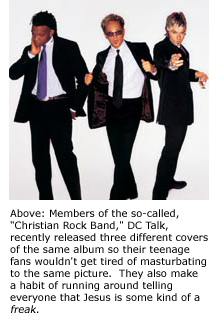 If you are a Baptist teenager who is cursed with the unfortunate daily experience of having to attend a Public School, no doubt you are forced to put up with ignorant, unsaved schoolmates and their bothersome questions about Jesus. Their primary expsoure to our religion is skewed by such poor representatives of Christ as Amy Grant, DC Talk, Sixpence None The Richer, a group called POD, and countless other trashy bands getting rich off the blood of our precious Savior. Creation Scientists at the Landover Baptist Center for Youth Studies have been kind enough to provide a quick reference guide in case your unsaved schoolmates ever question you about so-called Christian rock music. Please print it out and keep it in your school binder or notebook.
LANDOVER'S CHRISTIAN ROCK REFERENCE GUIDE
Amy Grant:
Mrs. Grant is an adulterer. She cheated on her husband and got a divorce. Apparently she's also the daughter of a minister, and according to Leviticus 21:19, the daughter of a minister who plays the whore should be burned to death. Since it is not legal for Christians or even Jewish people to truly follow their religion in America, Mrs. Grant is free to roam the earth and shack up with unsaved truck drivers and country singers like Vince Gill, Brooks and Dunn, or anyone else who will have her. To say that such a lifestyle is representative of Christ is absurd. The song "Softly and Tenderly," on her new album, "Legacy...Hymns and Faith" is obviously referring to sex between her and and co-adulterer, Vince Gill. True Christian® ears don't want to hear what you are doing in bed, Amy!
Sixpence None The Richer
These former Texas choirboys weren't happy with the money Jesus was giving them, so they started searching in Satan's pocketbook. Hymns like, "How Great Thou Art," soon took a beat faster than 4x4 time and turned into a songs called "Kiss Me," which was featured in teenage sex romp TV shows like Dawson's Creek, Red Shoe Diaries, and Girls Gone Wild." As with everyone who makes a pact with the Devil, He now has them singing about the glory of Heroin in the cover song, "There She Goes." (lyrics: There she goes again, flowing through my veins, taking away my pain, relaxing my brain, etc. . .) It's just sad.
DC TALK
The Christian version of N'Sync are so obsessed with their looks, they released three different covers of the same album so their teenage fans wouldn't get tired of masturbating to the same picture. Landover Baptist Creation Scientists are certain that young teenage girls suffer from orgasms during their concerts as attention is drawn away from Christ and toward the worldly looks and pelvic gyrations of the band members.
The group formed at Dr. Jerry Falwell's "Liberty University" in Lynchburg, Virginia. One former male classmate who used to give massages to DC TALKER, "Mike" while he was still at the school, reports that the bandmember came away from the massage fully aroused. Showermates at Liberty University also report that Mr. Tate is uncircumcised. As such, according to the Holy Bible, he should be cast out from society and discarded by his family. (Genesis 17:14) But he is still up on stage earning money by using Jesus' name to deliver orgasms to teenage girls across America. It is important to note that as a young colored boy, Mr. Tate has a flat nose and the Bible says that people with flat noses are not allowed to approach God (Leviticus 21:18) The only bandmember who literally lived out on the streets of Washington DC (Where the original "DC" in DC Talk came from) was Toby. He was was almost gunned down by a rival gang before he gave his life to Jesus. During his years at Liberty University he made it apparent that Jesus never had his life to begin with when he started running around campus, calling the Lord Jesus a "Freak." We're sorry Toby, but Jesus was not a "freak" and he doesn't make you into one, only Satan can do that! Sadly the only bandmember who can be found "righteous" is Kevin, who, thank God, has a solo career so he can at least get away from the other two so-called "Christians."
P.O.D.
A group of singers who are so mixed up, you can't even tell if they are colored or Mexican. They had one song that mentioned Jesus and everyone started running around calling them "Christians." Well, they are now playing on the pro-satan tour "Ozzfest," and they've appeared on some New York talk show discussing how stern their commitment to Christ was. In the inverview the bassist stated, "some kids come up and say you guys, "F"ing rock, and that's fine with me." Well friend, Immorality is also fine with them, tattoos are fine with them, and Satan is fine with them too.
For More Information on the Evils of Christian Rock, Click Here

---

---
Copyright 1998-2007, Americhrist Ltd. All rights reserved. Terms of Service
The Landover Baptist website is not intended to be viewed by anyone under 18