---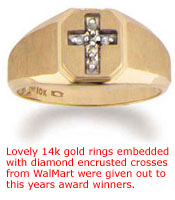 Virginia Beach, VA - Each year, the Christian Broadcasting Network (CBN) holds it's Jesus Values Excellence Awards®. The ceremony is also broadcast at 2 a.m. the following morning on NBC. This year, a star studded crowd of America's finest religious people showed up for the event. They were treated to a seven course meal, live entertainment, scripture readings, and Rev. Pat Robertson entertained the crowd by pulling a few amazing religious stunts out of his Pentecostal bag of tricks.

For Landover Baptist Platinum Level tithers, it was a night to remember. Awards were given in almost every conceivable category. For parishoners who were not able to afford the $2,000.00 a seat reservation, it can only be said that it was well worth the money. If you were unable to make it this year, we listed the top six categories below. Each category winner has a links to amazing stories of Christian Excellence!

Top Six Category Winners

Most Fearless Testimony In Uncomfortable Circumstances

· Pastor Orlando Bethel of Loxley, Alabama who was nearly beaten to death by funeral goers for mentioning in his eulogy that the person about to be buried was a piece of unsaved trash who is burning in Hell.

Best Use of National Tragedy to Boost Tithes

· First Baptist Church of Dothan Alabama's "The Lord Let Those Yankees in the World Trade Center Perish Because They Were Too Cheap to Tithe. Are You Next?" pitch, as part of their "a dollar for every floor" October 2001 telephone campaign.

· Runner Up - Rev. Jerry Falwell who was bold enough to tell the world that the liberals, homosexuals and Hollywood Jews were to blame for what happened on September 11th and secured even more tithers by staging a mock apology on CNN.

Best Use of Capitalizing on Secular Product Name to Sell More Christian Merchandise

· 357 LB Pastor, John Hagee not only knows how to eat, he also knows how to move Christian Merchandise. His video tape, "Harry Potter: Witchcraft Repackaged" not only won in this category, but also won "Best Christian Video."

Most Effective Campaign to Scare Small Children into Accepting Jesus

· Church of God, Wheeling, West Virginia: "One more sin, and Jesus is going to kill your Mommy!" billboard campaign.

Best Use of Bible Story to Attract Tourists

· The country of Turkey. A replica of Noah's Ark will soon be built on top of Mount Ararat in Turkey to attract tourists.



Best Graphic by small church (less than 15,000 paid members)

· Holy Pentecostal Church of Dublin, Georgia's poster of a New York Fireman "My ladder isn't long enough to help your sorry butt in Hell!"




---

---
Copyright 1998-2007, Americhrist Ltd. All rights reserved. Terms of Service
The Landover Baptist website is not intended to be viewed by anyone under 18