Restore The Pledge of Allegiance Campaign
If You've Got Something In Your Pocket That Says, "In God We Trust" On It, Please Send It To Your Local Church Where It Belongs, Before It's Too Late!
---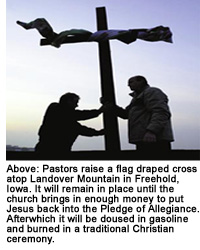 Let's keep this simple because we're in a hurry and timing is everything. We've got unsaved people behaving like spoiled children and we need to act as quickly as possible before Jesus gets so upset, He just decides to kill everyone. If you trust in God, then send us everything you've got with "In God We Trust" written on it before it's too late! We're asking you to dig as deep as you can into your pocketbooks or take out a pen and add a few zeros to your checks, folks. We've got some items here, and your purchases will help defer pastoral expenses expected to triple in the next year as we wage war with hell bound atheists in an all out True Christian® battle to take this country back for Jesus, for good! Perform your American duty and assist us in helping offset the costs of hotel accommodations, travel expenses, conferences, seminars, TV spots, radio commercials, attorney fees, general cost of living expenses, and Christian business luncheons needed to fight this war the way it has to be fought!


Pledge of Allegiance Shopping Cart
NOTE: Consider yourself obligated to purchase these items. Please understand that our supply is limited and when we run out of an item, if we even had it in the first place, we'll simply cash your check and give the money to our Pastor. If you can't send us any of God's green "trust notes," then you are invited to hop on a Greyhound or plane and head out to Sin Fransissyco and let that godless, liberal judge know how much it angers the Lord to be spit upon. We encourage you to bring your young ones and give them plenty of things to throw. His car is a 1998 black Buick Riviera (tag JPR 764). You may want to bring a bag of sugar. We are not encouraging any of you to load your rifles, but if the Lord whispers in your ear otherwise, you know what to do.



Videotape of Sin Fransissyco Court Ruling: $159.99



Videotape of Pastor Rebuking Sin Fransissyco Court Ruling (4 Cassettes): $289.99



Photo of Pastor Deacon Fred Outside of Sin Fransissyco Court Building Screaming at an Unsaved Person: $129.99



Bound Transcript of Court Proceeding with Scripture Verses: $227.99



Laminated Wallet Size Pledge of Allegiance: $39.99



KJV Landover Baptist Leather-bound Bible With Gold Engraved Pledge: $409.99



Pledge of Allegiance Signed By Pastor Deacon Fred (Suitable for Framing): $159.99



Photo of Landover Baptist Church With Flag and Pledge Script: $118.99

---

---
Copyright 1998-2007, Americhrist Ltd. All rights reserved. Terms of Service
The Landover Baptist website is not intended to be viewed by anyone under 18