---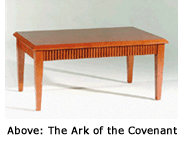 At a sold-out ceremony in the Georgia-Sue Gaines Memorial Auditorium, a to-scale replica of the Acropolis, thousands of Landover Baptist's Platinum members wept as the Ark of the Covenant was unveiled last night. The four-foot by two-foot rectangular table constructed of shittim wood and solid gold is the most holy piece of furniture ever designed.

Church members learned the story behind the Ark at its unveiling. Pastor Ebeneezer Smith revealed that the late Mrs. Georgia Sue Gaines had purchased what she thought was a "lovely coffee table" at a garage sale in New Jersey, sometime in the late fall of 1978. When she brought it home, she discovered that the gold finish would not work with her existing furnishing. In turn, she had Festus Hawthorne, a field worker, move the table into an old slave cabin to refinish it. Sister Taffy, granddaughter of Mrs. Gaines, recalled, "I remember well when that boy went to sanding on that ghastly coffee table. He let out a single yell and dropped dead on the spot. In fact, anyone who touched that table other than members of the family were killed instantly." Sister Taffy went on to report, "A once removed cousin of Granny ended up having to complete the refinishing due to the strange circumstances surrounding the piece. I could not tell you the number of old Negro women who died while dusting that thing. But we all thought it was such a gorgeous piece of furniture, it would have been a crime not to be able to see the original wood."

Church members learned that for the past 22 years the sacred Ark was in storage in an unused slave cabin at Mrs. Gaines' "Ten Mile, Tennessee Plantation." It was left untouched and all but forgotten until last month when Sister Taffy was overseeing a spring cleaning at the plantation. "One minute I had five strong helpers trying to move Granny's old coffee table, the next minute, they were all dead." Sister Taffy remarked, "You can imagine my horror as they all collapsed into a heap on the floor, I was so afraid that the ark would topple over on the driveway and get scratched."

Landover Archaeologist, Bull McZee was called out to the plantation to investigate. He concluded the old coffee table was not really a coffee table at all, but rather the sacred Ark of the Covenant described in the Old Testament. "How it got to New Jersey," he remarked, "God only knows."

Immediate plans were made to move the object into the Landover Baptist Historical Museum of Christian Archaeology. The invitation only, black tie ceremony this week, offered church members their first glimpse of the world's most valuable Christian artifact. Pastor Deacon Fred and several other church elite were privy to a special preview reception held at Sister Taffy's Christian Estate. Deacon Fred commented: "When I peeked inside the Ark, the light coming out of it was so blinding I could barely see. But when my eyes adjusted I noticed that there was only one tablet sitting in there. I don't know what happened to the other one, probably some black boy managed to steal it while it was in Tennessee. I just hope folks don't get it in their heads that they can start ignoring the other five commandments."

When Sister Taffy was asked why she didn't want to keep the Ark for her own, she replied, " I simply realized there would be millions of faithful who would just die to be near the covenant. I really don't relish the thought of having people I don't know coming through Granny's plantation. I first thought of turning the Ark into a lovely coffee table for the study -- or a place to keep linens at the end of the bed in a guest room. But, really, it is an ugly thing and besides... it is missing the other half of the tablet. I don't allow damaged pieces into my home, so I donated it to the church just like Granny would have me to do."

Since the media has discovered that the Ark of The Covenant is now on display in the Landover Baptist Historical Museum of Christian Archaeology, there has been a frenzy of activity on the church campus. Deacon Fred noted, "You wouldn't believe the number of old Rabbis and other cheapskates that are making pilgrimages to this church every day. They just want to see a glimpse of that old Ark. We have to turn them away at the gate though." He went on, "You see, we don't allow unsaved folks to get near our church, and we'd never think about letting a Jewish person around something that is worth that kind of money."

---

---
Copyright 1998-2007, Americhrist Ltd. All rights reserved. Terms of Service
The Landover Baptist website is not intended to be viewed by anyone under 18